This file part of www.dodgejeffgen.com website
      One-Room School Houses of Dodge County.  An online eBook
Fox Lake Township
Introduction to District Schools
TEACHER INDEX FOR THIS TOWNSHIP [pdf file]
HIGH LIGHTS OF SCHOOL DISTRICTS
No. 3 - (Village)
First tax-supported school  in county-
Augusta Butterfleld-Blake first teacher
(also teaching in 1885)
New school built 1886.  Addition 1895. 
Four-year high school 1893.  Second high school 1950
No. 2 – Original school ˝ mile west Welsh Calvanistic Church – "Welsh Settlement."
"Pin Hill "-should have been Penry Hill
One of first adult organizations
No. 5- Chief Kuno on Island Resort
General William Blake (Fisher)
William Shore's farm
Dividing district, 18889
No. 12 (parent district of No. 5)
Lead mines of the '70s
First telephone- 1883
Lawrence S. Keeley
Rev. Charles Wilcox
Division of 1889 the beginning of end
No. 8 - Mrs. Dickson's school about 1849 (Ireland)
Organized about 1851- Miss Case first teacher
The Gem (Kate Cruden)
F.L. Junction - 14 families
Prof. Lyman N. Root - singing school
No. 7  (Lake Emily)
Schaumburgh Hall
(Murder- ghost stories)
Imogene Winship
Henry A. Graham chairman of a special school meeting, Oct. 1, 1877.  $200 was noted to put an addition to the school house, 12 x 18 ft.  Sept 1, 1879 – H. A. Graham was Sec.  Aug. 3, 1880, elected clerk for 3 years.  Sec. 1884.
Fanny Hames taught for 3 mo. in school district No. 7, Town of Machford-Green Lake County, $22 a month.  Commencary Aug 19, 1869; taught there only the one term.
Inez Peasley taught in 1881 in Joint District No. 7, Town of Machford, Green Lake and Fox Lake (Dodge) for $18 per month.
No. 12- (Lake View)
Indian village at Shorecrest (Indian legends)
Browers' first home
Wilms & Peschman hotel
Following is a list of teachers noted on a card at the Fox Lake Publiv Library
District #1 - Beahm School
1910           - Elizabeth McCarthy
1912-13      - Stella Smith
1913-14      -Anna G.Bauer
1914-15      - Nina E. Lovejoy
1915-16      -Stella Smith
School located on F & Brave Road. It was gone in 1978. Noted as a red brick school.
===============
August 16, 1956 Town of Fox Lake purchased Pin Hill School to convert it to a town hall.  The building and one acre of land was purchased for $2500.00 (noted from card at Fox Lake Pub. Library).
April 7, 1905 County Line School began Monday with Miss Bessie Cross as teacher (noted from card at Fox Lake Pub. Library).
Feb. 13, 1884 Following is a list of students with
Highest written exams of the winter term:              Trenton Center   #7
Mary Stapleton
Luell Hemingway
Leon Borst
Eddie Gibbs
Phenie Halstead
Allie White
Helen Falkenstern
District #10 - Name?
1st School - log bulding on east side of Lakeland Road on SC McDowell farm.  It was owned in 1976 by Lawrence Schmidt.  In 1875, a new school was built on west side of road on line fence between Quandt farm and land owned by Erwin Schmidt (1976).  Last building was sold at auction to Glen Oliver.  It was torn down to use as a city dwelling.  Land reverted to Quandts.
Miss Augusta Butterfield was 1st teacher in first public School in Dodge County, 1845.  She later taught at Lake Emily School.  She married Charles Blake and was later divorced. She retired in 1890.
===============
Early history of education at Fox Lake was a topic of interest to the Woman's Club on Monday evening, Feb 7th.  Nellie McCarthy reviewed the history of the district schools in the Town of Fox Lake No 2.  Pin Hill began with a log school house in the early '50 some distance west of the present building, which was the Welsh Calvanistic Church until 1916.  Present No. 8 (Ireland) began at the home of Mrs. Mary Dickson, at the site of Gibbs Bros, celery field, and the district was organized in 1855.  A copy of the "Gem," a school paper written there in 1864, is still in existence.  No. 12 (Canada Island) was organized in 1858 and closed about thirty years ago.  In early days, the building was also used for Sunday School classes.  No. 1 (Fairview) was organized in 1867, a number of very amusing rules for the conduct of teachers and pupils are found in the old records.  Lake Emily was another pioneer school moved to a different location some years ago; its record show interesting spelling bees, and the organization of a Good Templars" lodge.  In the district No. 5 the youngest district in the town was organized in 1889, from part of the no. 2 district.  The name Fisher School was adopted because the first school meeting was held at the home of Fred Fisher.
Miss McCarthy complimented the Pin Hill Mothers Club and Lake Emily Community Club on their help in school activities.
Miss Jennie Moore discussed the Fox Lake Female Seminary organized in 1855 that evolved into Downer College in the "70".  It was first a local Baptist school for girls, a companion to Wayland Academy, then for boys only.  As the time went on, young men were admitted to the Fox Lake institution and a few Fox Lake boys numbered among the alumni.  Miss Caroline Bodge, the first principal, is buried in the local cemetery.  Several other teachers and principals were mentioned, the last being Miss Ellen Sabin, when the school consolidated with Milwaukee College in 1895 and became Milwaukee-Downer.  Miss Emily Brown, who taught at Fox Lake, is still a member of the Milwaukee-Downer faculty.
Nelson Bonner, manager of the Abstract Office, found that the present school property was purchased from the Brower Brothers by Fox Lake Academy Association in 1854.  John W. Davis was president and William Smith secretary of this association that deeded the property to the school district in 1856.  The frame building, now at the corner of State Street and College Avenue, was once used as a school near the mill and the present Kenney home was a select school taught by the Purdy sisters.
Mrs. J. W. Hobkirk gave a report of the State Federation board meeting that she attended at Milwaukee last week, and Mrs. W. R. Owen describe a silk boycott by university girls at Chicago.  Mrs. H. E. Adams was appointed chairman of the local Cancer Control campaign, to be again sponsored by the club.  $5.00 was donated to the Dodge County Children's Protective Association.
<![if !vml]>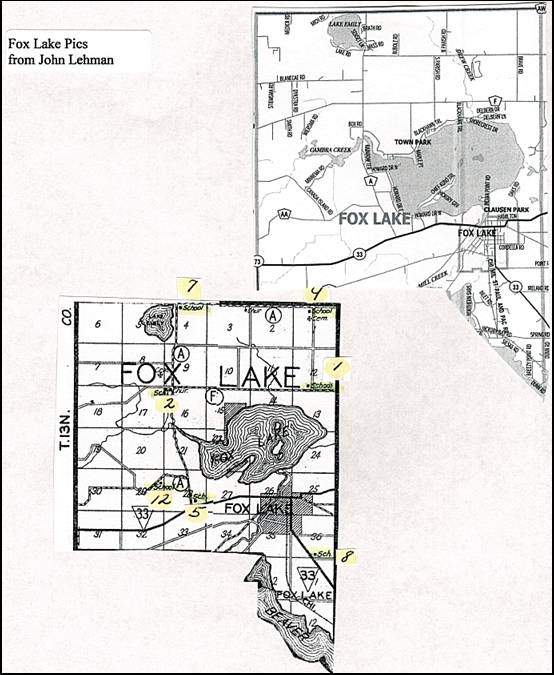 <![endif]>
Fox Lake

# 1

# 2

# 3

---

# 4

---

# 5

# 6

---

# 7

# 8

# 9

# 10

---

# 11

---

# 12
<![if !vml]>

<![endif]>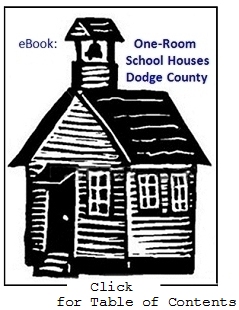 <![if !vml]>

<![endif]>