This file part of www.dodgejeffgen.com website
      One-Room School Houses of Dodge County.  An online eBook
Pin Hill School
District # 2
Fox Lake Township
Year

Ending

Teacher

Year

Ending

Teacher

1901

1940

Angeline Hornung

1902

Alice D. Jones

1941

"

1903

1942

Henrietta Sheskey

1904

Charlotte Blake

1943

"

1905

1944

"

1906

Margaret Williams

1945

"

1907

David C. Thayer

1946

"

1908

Katherine Williams

1947

Mrs. Ruth LaFave

1909

"

1948

Mrs. Edna Davies

1910

Letitia J. Jones

1949

"

1911

"

1950

Mrs. Jeanette Wiersma

1912

Ida J. Allen

1951

"

1913

"

1952

"

1914

"

1953

Mrs. Beula Moldenhauer

1915

Phoebe Stroud

1954

"

1916

Ida J. Allen

1955

"

1917

Nellie McCarthy

1956

"        & Bernice Johnson

1918

"

 

Joined w/Alto

1919

"

1920

"

1921

Nina E. Lovejoy

1922

"

1923

"

1924

Henrietta Klettke

1925

"

1926

Alice Kamp

1927

"

1928

Inez M. Fisher

1929

"

1930

"

1931

Hilma Grahn

1932

"

1933

Inez M.  Fisher

1934

"

1935

"

1936

Mrs. Alice Hammer

1937

"

1938

"

1939

Angeline Hornung
<![if !vml]>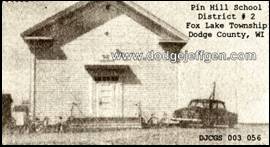 <![endif]>   <![if !vml]>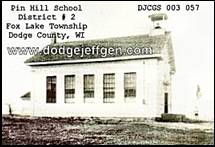 <![endif]>
Click thumbnail so to enlarge
<![if !vml]>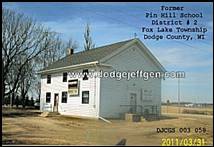 <![endif]>   <![if !vml]>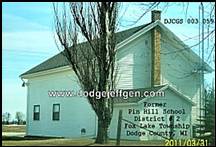 <![endif]>
<![if !vml]>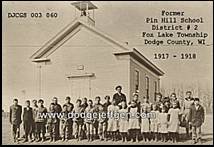 <![endif]>   <![if !vml]>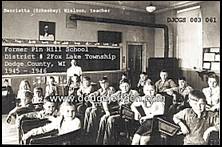 <![endif]>
<![if !vml]>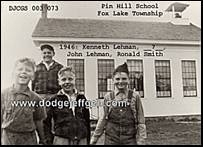 <![endif]>
PIN HILL SCHOOL DISTRICT NO. 2
About 1851 a log schoolhouse stood between Charles Rabehl and William Davis's farm on the Blaencae Road.  Farms are now owned by Bartelt and Bronkhorst  This building was also used for church services.
Later a school was built below the Gus Lehman home; Nell McCarthy taught there in 1916.  The enrollment was 56 pupils. This was the last year in the old schoolhouse.  In 1917 the old Welsh Church was purchased and remodeled into the present Pin Hill School.   Source: Fox Lake Library
PIN HILL MEMORIES
Gloria Pollesch recalled that as a first grader she was very afraid of Santa Claus and Grace Wanilista Eager held her on her lap.
Another honored guest was Mrs. Leona Weber a former teacher of Lake Emily School.  When she retired from the Markesan Public System she was instrumental in starting the Markesan Historical Society.
In addition to area towns guests attended from Glendale. Wautoma Manitowoc, New Holstein, Clintonville, Milwaukee, Greendale, Wild Rose, Hartford, Fort Atkinson, Oshkosh and Ripon.
After many fond good-bys the celebration began to break up about 3 o'clock with all proclaiming "a good time was had by all."
<![if !vml]>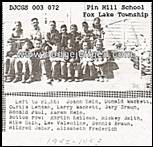 <![endif]>
Left to right:  Joann Hein, Donald Wackett, Curtis Lehman, Larry Wackett, Gary Braun, Ronald Paul, Karen Hein.
Bottom row:  Martin Neilsen, Mickey Smith, Mike Hem, Lee Valentine, Dennis Braun, Mildred Gaber, Elisabeth Frederick
The early Welch settlers came to the area in the 1840s.  A log building was built for a school located on the Blaencae Road, about three fourth mile west from the corner of County A.  The area was surveyed and in 1851 the first deeds were recorded at the abstract office in the Dodge County seat of Juneau.  During this time of the original plotting of the area, the state designated certain quarter sections of each township to be the location of the school house.  The quarter section of land designated for school purposes was purchased by Gust Lehmann in 1907.  The first recorded location for a school house was located one quarter mile west of the intersection of County A and F, on County F.  This was the school until 1917.  In 1917 Nel McCarthy was the teacher and there were 56 students.
The year 1889 a plot of ground located on the corner of County A & F within this same quarter section was deeded to the Welch Calvinistic Methodist Church where they built a new church building.  This congregation had been located in a building by the Lake Emily cemetery.  They used this building on the corner of County A & F until 1917 when the school district purchased it.
It is interesting to note that the name of this school is a derivation from the Celtic "Penyrhill" which meant "top of the Hill."  Other nationalities who settled in that neighborhood later found the Welsh words hard to pronounce and their attempts resulted in several derivations.  Gust Lehman is the one credited with changing the name to Pin Hill.
<![if !vml]>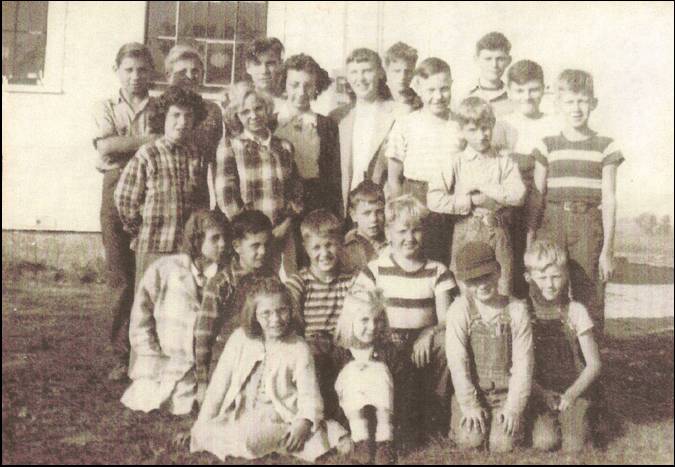 <![endif]>
Pin Hill School, 1948-1949
Mrs. Edna Davies was the teacher
Front, kneeling:  Mary Pollesh, Carol Pollesh,
Second row, kneeling:  Shelly Pollesh, Don Wachett, __?__, Curt Lehman, Frank DeVries, Mick Smith, Morey DeVries
Third row:  Mildred Davies, Gloria Polleal, Arla Schnulle, Barb Kraft, John Lehman, __?__, Ron Smith, Ted DeVries
Back row:  Ken Pollesh, Darrekk Pollesh, Carl Graham, Jim DeVries, Don DeVries
<![if !vml]>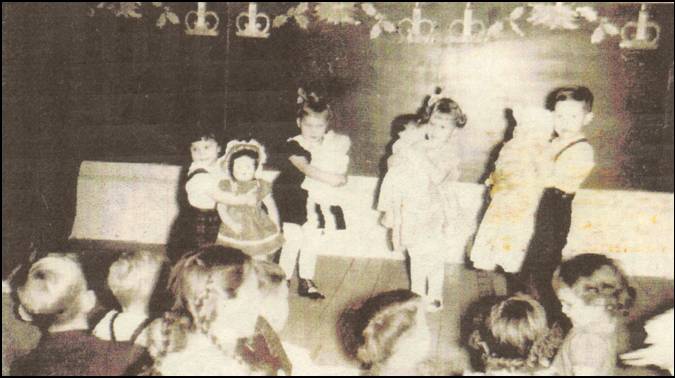 <![endif]>
Left to Right:  Cathy Wackett, Kristine Lehman, Linda Kraft, Ken Paul
Kindergarten at Pin Hill?
Children who would be starting first grade would come for an afternoon or more
and sit with an older brother or sister so to get used to school. 
The teacher would have something for them to do.
This picture is of the preschool children on stage at the 1953 Christmas program.
<![if !vml]>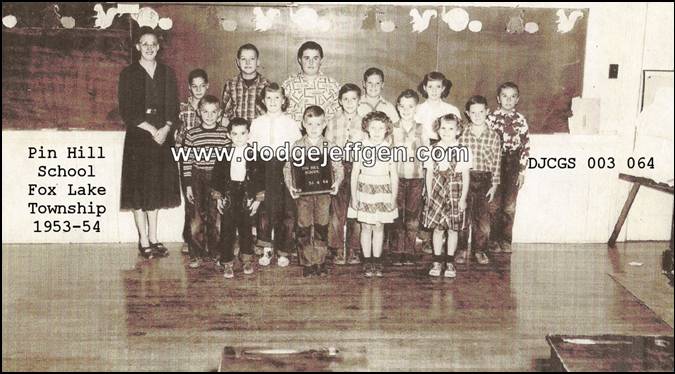 <![endif]>
1953-1954
Mrs. Beulah Moldenhauer, teacher
Front Row:  Kenny W., Larry Smith, Christine Lehman, Linda Kraft
Middle Row:  Dennis Braun, Phyllis Frederick, Lee Valentine, Michael Smith, Kenneth Paul
Back Row:  Larry Nackett, Curtiss, Lehman, Floyd Nackett, Ronald Paul, Elizabeth Frederick, Gary Braun
<![if !vml]>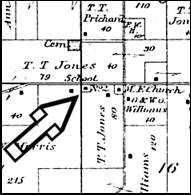 <![endif]>
<![if !vml]>

<![endif]>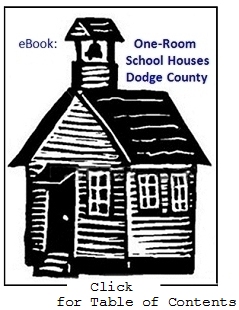 <![if !vml]>

<![endif]>