This file part of www.dodgejeffgen.com website
      One-Room School Houses of Dodge County.  An online eBook
County Line School
District # 9
Fox Lake Township
County Line School #9
Fox Lake Township – w/G. Lake
Year

Ending

Teacher

Year

Ending

Teacher

1901

1940

Agnes Ruhland

1902

Miss L. E. Wood

1941

"

1903

1942

Mrs. Gladys Thackray

1904

Edith Learned

1943

"

1905

Anna King

1944

Mrs. Leona M. Weber

1906

Edith Learned

1945

"

1907

Bessie Cross

1946

"

1908

Edith Learned

1947

Lois Lovejoy

1909

Leona G. McCloud

1948

Velta Purdy

1910

"

1949

Mrs. Florence Flagel

1911

Stella E. Smith

1950

"

1912

Frances M. Sewell

1951

Marguerite Gelhar

1913

"

1952

"

1914

Margaret Amthor

1953

"

1915

Jennie Gilmore

1954

Mrs. Bernice Johnson

1916

Marion Beach

1955

"

1917

"

1956

Closed

1918

Amber Harrington

1919

Nina Lovejoy

1920

"

1921

Mildred Beahm

1922

"

1923

Hazel Cotterill

1924

Ira C. Cravillion

1925

"

1926

"

1927

"

1928

Elmer Weishoff

1929

Ira C. Cravillion

1930

Harry Sauer

1931

"

1932

"

1933

Marian Gustrowsky

1934

"

1935

"

1936

Inez Fisher

1937

"

1938

Agnes Ruhland

1939

"
<![if !vml]>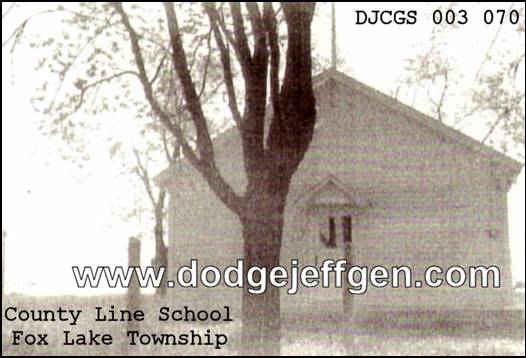 <![endif]>
<![if !vml]>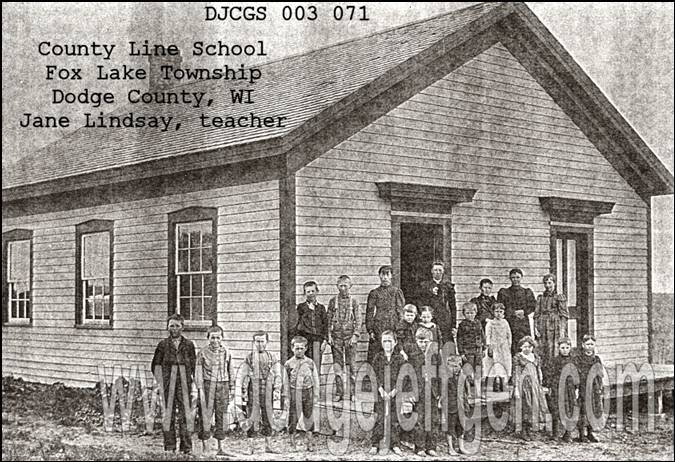 <![endif]>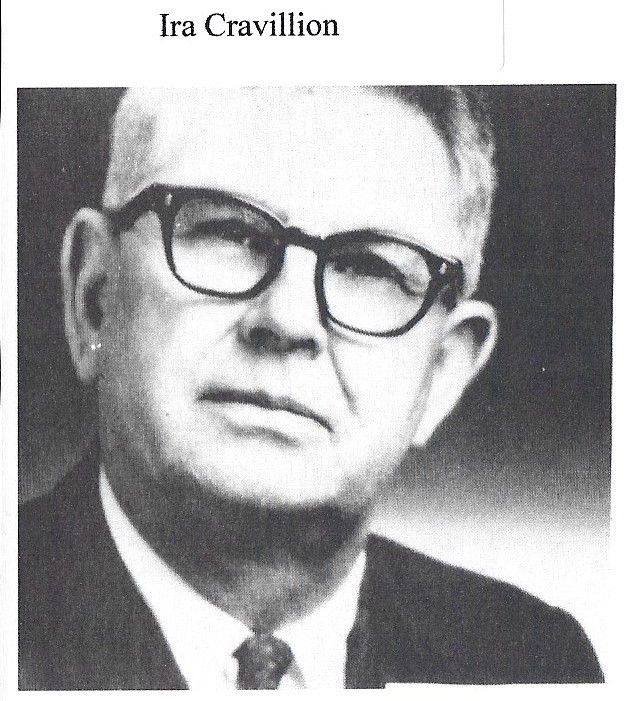 Taught in 1924-27 and 1929
COUNTY LINE SCHOOL
     A FOX LAKE PIONEER SCHOOL
The Kelley School now known as the County Line School.  This school house was probably built between 75 and 80 years ago.  Ella Mugridge or Mrs. Henry Chapman is 82 years old and is still living in the district.  This was the first school she ever attended.  She only attended school for one year here and then moved into one of the nearby Districts.  The last couple of years she is making her home with her daughter, Mrs. Henry Bachus, and is again in the same district where she started to learn her A B C's.
Some of the early families living in this district were: Nickerson family, Bing family, Latton family, Weavers, Standleys, Calkins, and later the Stoddard, Kelleys, Forgersons, Pauls, Mielkes, Van Brunts, Siedschlags, Meinkes, and Lunds.
The only early teacher that Mrs. Chapman remembers was Mary Williams.  Later teachers were: Minnie Gleason, who taught for many years and then married John Stoddart who lived in the district.  Other teachers Anna and Tessie Lemon, Melvin Meigs, Anna King, Charles Jones, Bessie Cross, Edith Learned, Stella Smith, Leona McCloud, Ira Cravillion, Mildred Beahm, Inez Fisher.  At present Miss Ruhland is teaching with an attendance of thirteen pupils.  This is the same school house that has been used for 75 to 80 years.  In the early days, the Baptists held services here.  There was also a Good Templer Lodge in the district.
George Latton, one of the very earliest to attend school here, in later life was a Superintendent of Schools in Minnesota, and also a member of Congress.
<![if !vml]>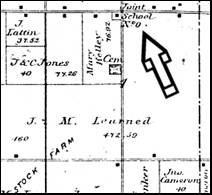 <![endif]>
<![if !vml]>

<![endif]>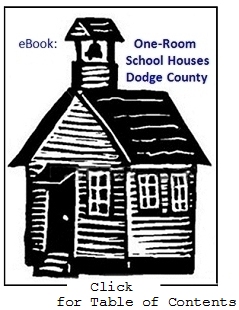 <![if !vml]>

<![endif]>