This file part of www.dodgejeffgen.com website
      One-Room School Houses of Dodge County.  An online eBook
Ashippun Township
Introduction to District Schools
The education of the children in the Town of Ashippun began with home teaching, much as is being done in some families today.  Back then, neighbors gathered their children together and held classes in reading, writing, and arithmetic.  An older daughter of one of the families acted as teacher.  When more settlers arrived, the need for formal education became as important as religious service and self government Thus was born the country school.
As soon as the town government was set up in 1846, provisions were made for the organization of school districts.  Beginning on November 21, 1846, the school districts were formed, each encompassing several sections of the township.  A few districts included children from neighboring townships.  Some areas in the Town of Ashippun were part of school districts in other townships. The districts were given numbers, and the schools were given names.  The districts were often altered by the inclusion or exclusion of other township sections or parts of sections.  With residents contributing time and materials, the schoolhouses were built
Ashippun

1

2

3

4

5

---

6

7

8

9
Forsythe School was located on the south side of what is now Evergreen Road about 1/2 mile west of Lincoln Road in the Town of Ixonia.  The majority of the childred lived in the Town of Ashippun.  It is being used as a residence.
TEACHER INDEX FOR THIS TOWNSHIP [pdf file]
<![if !vml]>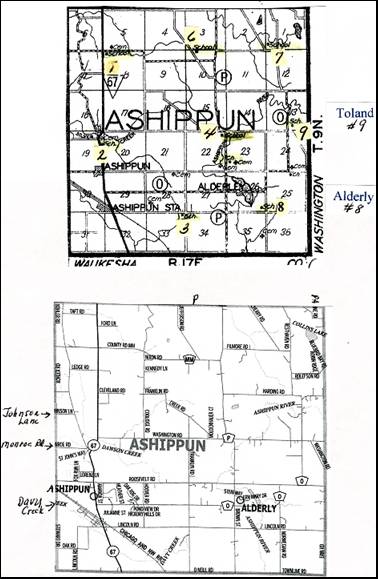 <![endif]>