This file part of www.dodgejeffgen.com website
      One-Room School Houses of Dodge County.  An online eBook
Sloping Valley School
District # 2
Lebanon Township
Year

Ending

Teacher

1901

1902

Joseph O. Meyers

1903

1904

Margaret J. Condon

1905

1906

Margaret Condon

1907

"

1908

"

1909

Mae Burr

1910

Nellie Curphy

1911

Charlotte Condon

1912

Anna Liebenthal

1913

Hannah Reen

1914

"

1915

Nora E. Schneider

1916

"

1917

"

1918

Irene A. McGuire

1919

"

1920

"

1921

"

1922

Dora L. Schneider

1923

Bernard Schule

1924

Anne E. Worachek

1925

Dora Schneider

1926

Marie Schmidt

1927

Olive E. Griffen

1928

Eleanor Volkman

1929

Olive Ellen Griffen

1930

Linda Kohli

1931

Edythe Anderson

1932

"

1933

Ethel Steinbach

1934

Alfred Bahe

1935

"

1936

Russell Traeger

1937

Genevieve Meyers

1938

Closed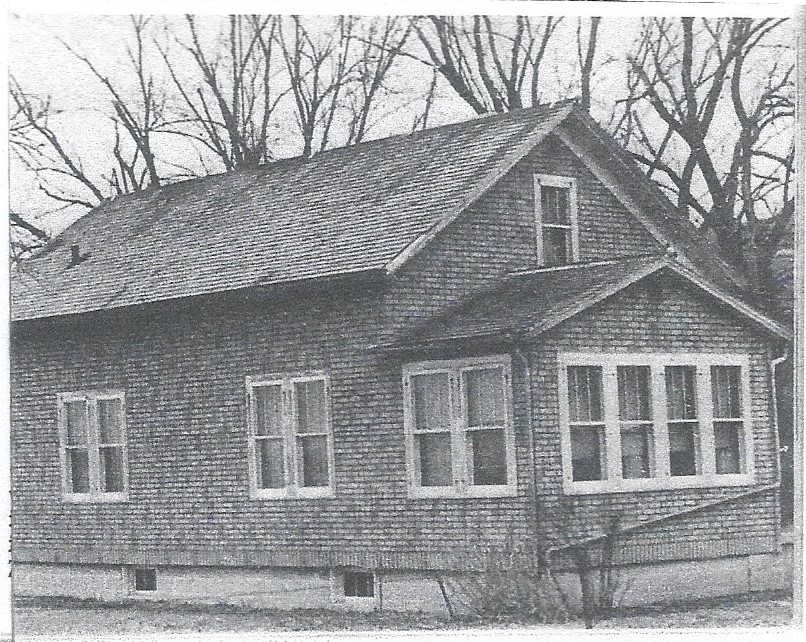 <![if !vml]>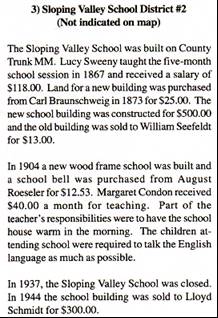 <![endif]>
SLOPING VALLEY SCHOOL, COUNTY TRUNK MM
The first school was organized and built prior to 1867. Lucy Sweeny taught five months of school in 1867-68 and received $118.00.
In 1873, $500 was paid for a new school and $25 was bid for the 1/4 acre of land to Carl Braunschweig; the old schoolhouse was sold to William Seefeldt for $13.
By 1890, Bridget O'Brien received $100 for teaching four months of winter school and three months of summer school.
__hne and Hames were paid $35 for drilling a well and installing a pump.
Margaret Condon, teaching in 1904, was paid $40 a month. A new wood frame school was built in 1904 and a school bell was purchased from August Roeseler for $12.53.
An interesting notation in the teaching contract of Irene McGuire in 1917 stated:  "It shall be the teacher's duty to have the school house warm in the morning for the children. The children shall be advised to talk the English language at school as much as possible."
A shed was build to store coal and wood in 1928.
In 1933, the teacher was Alfred Bahe. Lumber and coal cost the district $15.14.
By 1937, students were being transported to another school and it was voted to close the school. It remained closed and was finally sold to Lloyd Schmidt for $300.00 in 1944. He removed it to his property in the west part of the township, along County Trunk E southwest of Hustisford.
<![if !vml]>

<![endif]>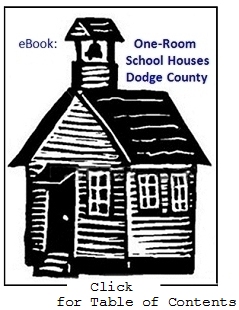 <![if !vml]>

<![endif]>