This file part of www.dodgejeffgen.com website
      One-Room School Houses of Dodge County.  An online eBook
Carey School
District # 2
Clyman Township
| | | |
| --- | --- | --- |
| Year | Teacher | Students |
| | | |
| 1901 | | |
| 1902 | Nellie G. Carey | |
| 1903 | | |
| 1904 | Mary Handley | |
| 1905 | Eugene A. Clifford | |
| 1906 | " | |
| 1907 | Joseph R. Quinn | |
| 1908 | Gertrude Holstine | |
| 1909 | Tessie Dolan | |
| 1910 | Mary Godsell | |
| 1911 | Loretta Manning | |
| 1912 | Marcella Manning | 11 |
| 1913 | Grace E. O Mara | |
| 1914 | " | 19 |
| 1915 | " | 24 |
| 1916 | " | 20 |
| 1917 | Rosella O Mara | |
| 1918 | " | 25 |
| 1919 | " | |
| 1920 | " | 10 |
| 1921 | " | 12 |
| 1922 | Estella M.  Kelly | 13 |
| 1923 | " | |
| 1924 | Nellie M. Foley | |
| 1925 | " | 9 |
| 1926 | Viola McGovern | 8 |
| 1927 | " | |
| 1928 | Miss Edna Coulahan | |
| 1929 | " | 10 |
| 1930 | " | 8 |
| 1931 | Miss Jessie Howland | 6 |
| 1932 | Miss Gladys M. Roloff | 12 |
| 1933 | " | 15 |
| 1934 | " | 10 |
| 1935 | Mrs. Gladys Weber | 10 |
| 1936 | Winnifred I. Zepp | 12 |
| 1937 | " | 14 |
| 1938 | Mrs. Nellie Rettschlag | 8 |
| 1939 | " | 15 |
| 1940 | " | 14 |
| 1941 | " | 14 |
| 1942 | Mary Gaffney | 11 |
| 1943 | Mrs. Mildred Gogert | 12 |
| 1944 | Mrs. Nellie Rettschlag | 17 |
| 1945 | " | 7 |
| 1946 | " | 10 |
| 1947 | Closed | |
Carey School District #2
The Carey School was located on Elm Shade Road.  In 1933, Gladys Rohloff was paid $70.00 per month for teaching and fire insurance on the school building was $7.61.  As early as 1941, tuition of $42.94 was paid to the Randall School for students who attended classes outside of the district.
In 1944, bills included $129.55 per month to Nellie Rettschlag for teaching, $59.24 to the Clyman Lumber Company for fuel, $20.00 to William Schuett for hauling water, and $25.00 to Anita Ninmann for cleaning the school.
Students from the Carey School were transported to the Hustisford Public School in 1946, with the Carey School District paying tuition for their education.  The Carey School was part of the 1951 consolidation.  The school building was sold to Ruben Degner, who dismantled the building and used it to complete an addition on the west end of his building in the Village of Hustisford.
WInnifred Zepp, teacher
Carey School
Three new pupils have enrolled in the school since April 5, They are Marcella Feilbach, seventh grade; Violet Feilbach, fourth grade; and John Feilbach, second grade.  They were formerly enrolled in the Brownsville schools.
Reading circle certificates were given to the following: Ethel Ninmann, Janet Ninmann, Edwin Bachmann and Ewald Bachmann.  Seals were earned by Dorla Maas, Norman Huber and Theodore Ninmann.  Edwin and Ewald Bachmann have attended 100 days of school without being absent or tardy and were presented with perfect attendance certificates.  Dorla Maas and Ethel Ninmann were on the honor roll for the last six weeks.
Miss Kraft inspected the school April 5 and gave the health examinations.
The bulletin boards are decorated with birds and flowers symbolic of spring.  At the back of the room there is a large chart on which the arrival of our feathered friends are recorded.
Marcella Feilbach, Seventh Grade Reporter.
<![if !vml]>

<![endif]>     <![if !vml]>

<![endif]>     <![if !vml]>

<![endif]>
Click to enlarge
<![if !vml]>

<![endif]>       <![if !vml]>

<![endif]>       <![if !vml]>

<![endif]>
Winnifred I. Smith nee Zepp
Taught at school in 1936
Winnifred I. Smith, 96, of Beaver Dam passed away on Saturday, Oct. 16, 2010, at Beaver Dam Community Hospital.
A funeral service will be held on Wednesday, Oct. 20, 2010, at 1 p.m. at Koepsell Funeral Home in Beaver Dam with the Rev. Eileen Kuehnl officiating.  Visitation will be held from 11 a.m. until the time of the service at the funeral home.
Interment will follow at Oakwood Cemetery in Beaver Dam.
Winnifred was born the daughter of George and Elvira (Wendt) Zepp on May 14, 1914, in Beaver Dam.  She was a graduate of Beaver Dam High School and Columbus Normal School where she received her teaching certification.  She taught in the Beaver Dam area in a one-room schoolhouse prior to her marriage.  After her marriage to Byron R. Smith on June 18, 1938, she and her husband moved to the Milwaukee area.  She was very active in PTA work while residing in Milwaukee.  After retirement, she and her husband moved back to the Beaver Dam area to reside on the family farm.  Winnifred was an avid cat lover.
She will be deeply missed by her daughter, Betty Jayne (Frederick) Ebling of Menomonee Falls; her son, Bob E. Smith of Mequon and six grandchildren:  Candace Ebling, Denise (Tracy) Olson, Steven (Valerie) Ebling, Marie Ebling, David (Kourtney) Smith and Elizabeth Schneider; great granddaughter Emily Olson; further survived by other relatives and friends.
She was preceded in death by her parents and her husband, Byron, in 1997.
Memorial contributions may be made to the Dodge County Humane Society.
1940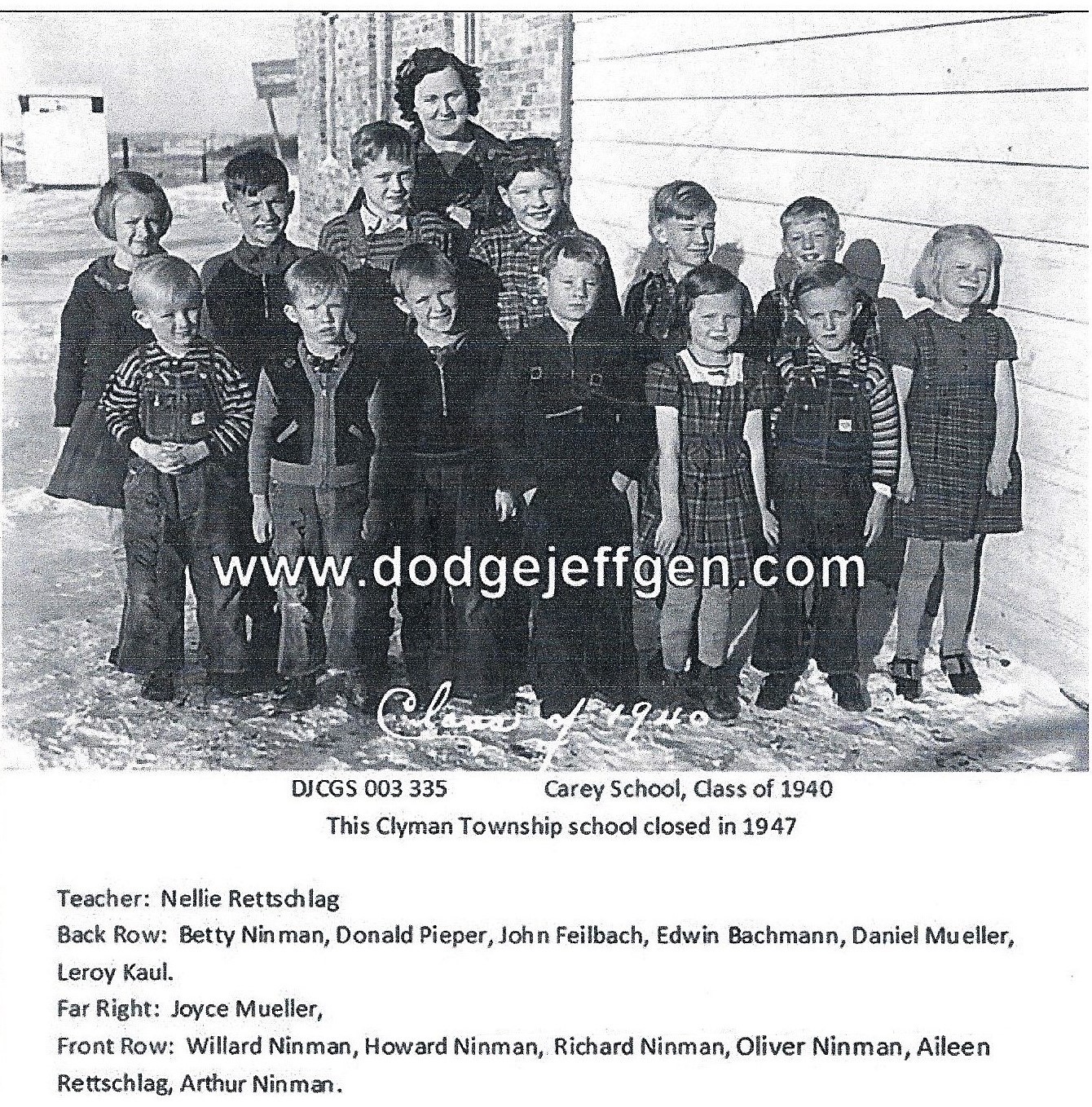 Teacher, Teacher contract, School Inspection Report, School Achievement Test:  Carey School:  (pdf file)
<![if !vml]>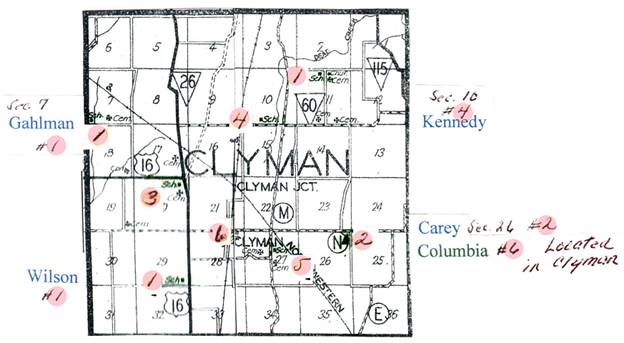 <![endif]>
<![if !vml]>

<![endif]>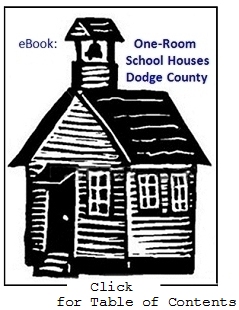 <![if !vml]>

<![endif]>