This file part of www.dodgejeffgen.com website
      One-Room School Houses of Dodge County.  An online eBook
Trenton Center
District # 7
Trenton Township
| | |
| --- | --- |
| Year | Teacher |
| 1901 | |
| 1902 | Mary Kellom |
| 1903 | |
| 1904 | Christobel Kohl |
| 1905 | |
| 1906 | Sadye H. Marshall |
| 1907 | Alma B. Albrecht |
| 1908 | Laura Philipson |
| 1909 | Mayme Murray |
| 1910 | " |
| 1911 | " |
| 1912 | " |
| 1913 | " |
| 1914 | Miss Tillie Bauer |
| 1915 | Miss Jessie M. Buss |
| 1916 | " |
| 1917 | Jane N. Jones |
| 1918 | Miss Ethel Young |
| 1919 | " |
| 1920 | Stella E. Smith |
| 1921 | Mrs.Mayme Jaroch |
| 1922 | " |
| 1923 | " |
| 1924 | Grace A. Allen |
| 1925 | Marie A. Mee |
| 1926 | " |
| 1927 | Ethel C. Stockton |
| 1928 | " |
| 1929 | Vivian E. Roberts |
| 1930 | Elizabeth Priske |
| 1931 | " |
| 1932 | " |
| 1933 | Mary Meagher |
| 1934 | " |
| 1935 | " |
| 1936 | " |
| 1937 | Marcella Baird |
| 1938 | " |
| 1939 | Inez Siedschlag |
| 1940 | " |
| 1941 | Helen Griffen |
| 1942 | " |
| 1943 | " |
| 1944 | " |
| 1945 | " |
| 1946 | " |
| 1947 | " |
| 1948 | " |
| 1949 | " |
| 1950 | " |
| 1951 | " |
| 1952 | " |
| 1953 | Helen Griffen |
| 1954 | " |
| 1955 | " |
| 1956 | " |
| 1957 | " |
| 1958 | " |
<![if !vml]>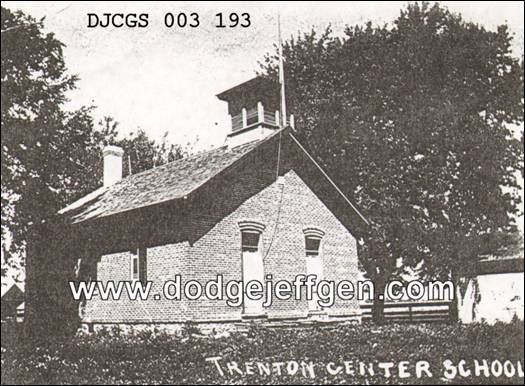 <![endif]>
<![if !vml]>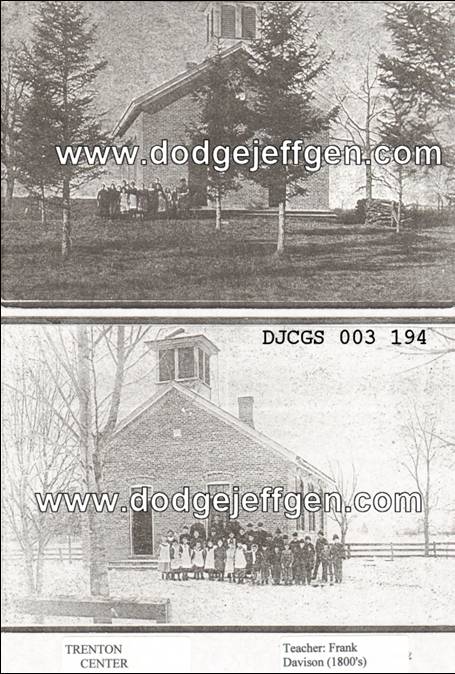 <![endif]>
<![if !vml]>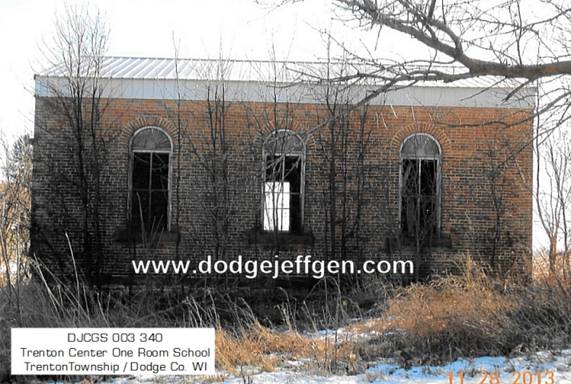 <![endif]>
2013
First Trenton Center School. 
There is a big door installed in the front of the building now so picture taken of side. 
Windows have a neat brick frame.  The newer Trenton Center School was just down the
road and was all brick so the thought is that this one is before 1930 or thereabouts.
<![if !vml]>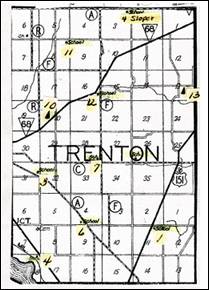 <![endif]>
<![if !vml]>

<![endif]>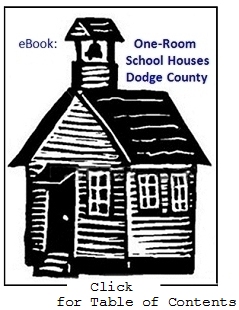 <![if !vml]>

<![endif]>