This file part of www.dodgejeffgen.com website
      One-Room School Houses of Dodge County.  An online eBook
Oak Grove – Oak Grove & Clyman & Lowell
District # 1
Oak Grove Township
Year

Teacher

Students

Notes

1901

1902

Marcella D. Foley

1903

John Kelley

1904

Arthur W. Lueck

1905

Ena L. C. Sumnicht

1906

"

1907

"

1908

Albert Arndt Jr.

1909

"

1910

Harry E. Kasten

1911

"

1912

No Name

52

1913

1914

Lydia Arndt

37

1915

Elsie S. Haase

18 (?)

1916

Edna McCormick

35

1917

Minnie Pade

1918

"

51

1919

Bertha M. Owen

43

1920

Viola M. Bilke

49

1921

Loretta R. Burns

51

1922

"

31

1923

"

1924

Frank Kashik

40

900.00/Yr.

1925

Marie Scheberle

16

1926

"

19

1927

Rachel Evans

1928

Anna Godsell

23

1929

Verna Kohlman

24

1930

Arnold A. Wild

25

1931

Earl W. Hanson

33

1932

"

37

1933

Doris J. McCaig

17

1934

"

12

1935

Doris McCaig

15

1936

"

24

1937

"

26

1938

"

19

1939

"

16

1940

Mrs. Doris Heinzelman

19

1941

"

9

1942

"

9

1943

"

10

1944

Mrs. Muriel Ranthum

17

1945

Mrs. Doris Heinzelman

17

1946

"

16

1947

Ardis Becker

13

1948

"

14

1949

Mrs. Harvey Thieme

22

Oak Grove & Clyman ?

Same school?

1950

Miss Delores Bauer

15

1951

"

18

1952

"

15

1953

"

16

1954

"

21

1955

"

25

1956

Mrs. Althea Rothenberger

20

1957

Mrs. Leo Laughlin

Mrs. Patricia Wild

Miss Kay Owens

24

1958

Mrs. Patricia Wild

21

1959

Miss Mary Zoelle

20

1960

Mrs. Shirley Cundy

26

1961

Miss Janice Sadowski

15
<![if !vml]>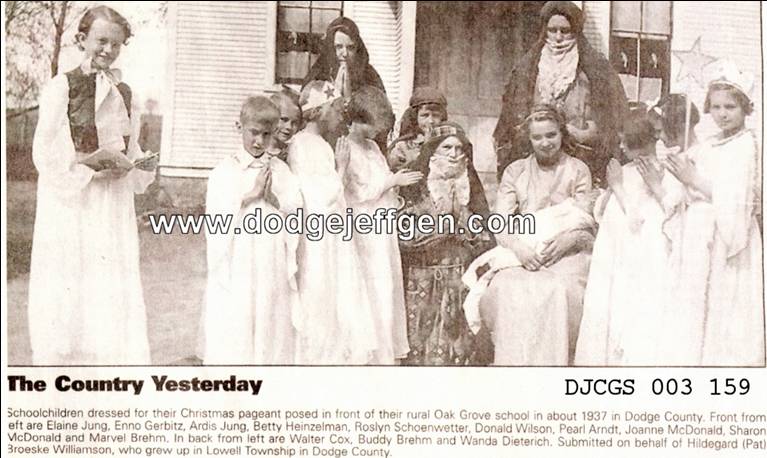 <![endif]>
School children dressed for their Christmas pageant posed in front of their rural Oak Grove school in about 1937 in Dodge County.
Front from left are Elaine Jung, Enno Gerbitz, Ardis Jung, Betty Heinzelman, Roslyn Schoenwetter, Donald Wilson, Pearl Arndt, Joanne McDonald, Sharon McDonald and Marvel Brehm.
Back from left are Walter Cox, Buddy Brehm and Wanda Dieterich.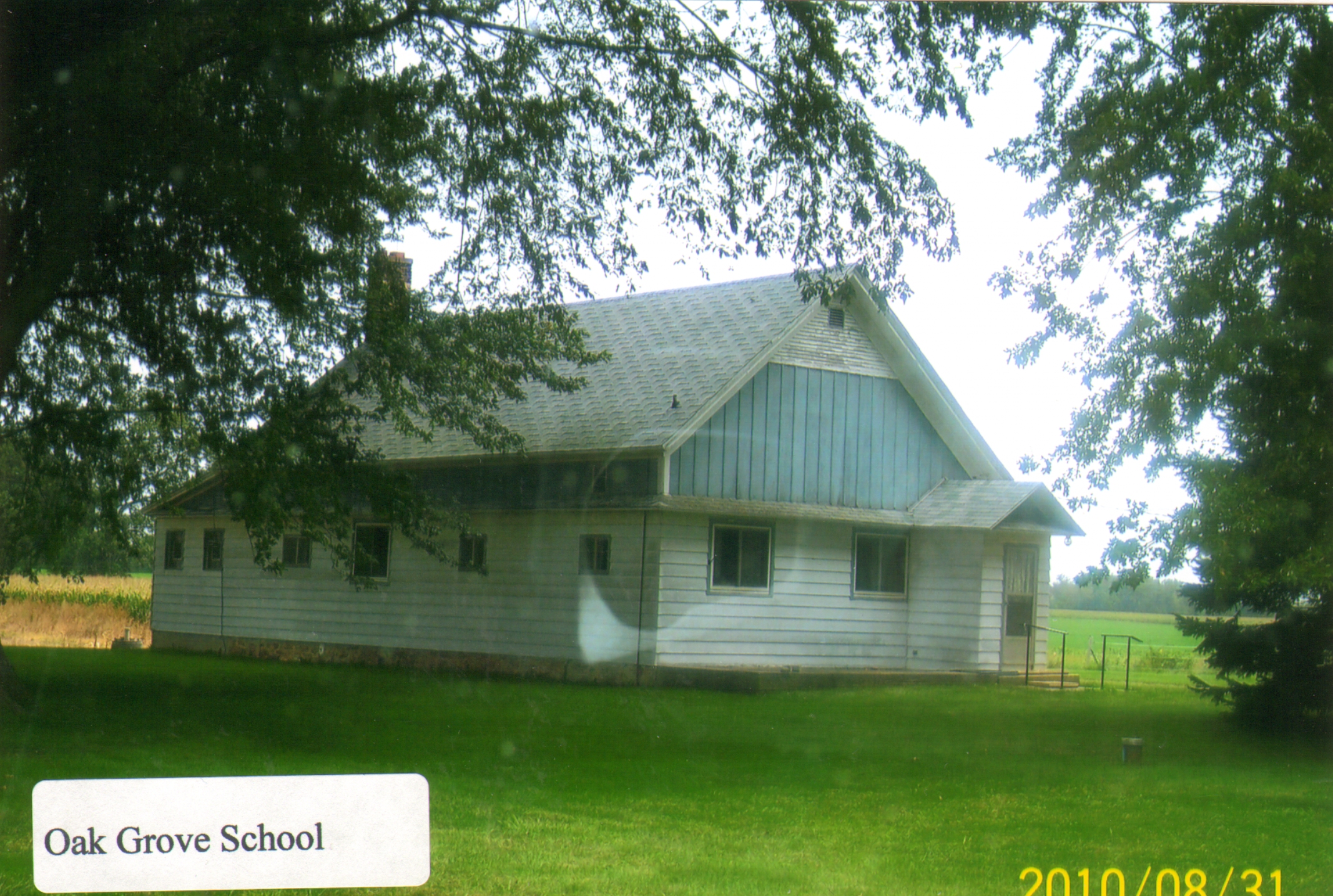 District #1 - On the map, the school is on A going south from Oak Grove towards Highway 26.
It is on west side of A very close to Oak Grove.
<![if !vml]>
<![endif]>
<![if !vml]>

<![endif]>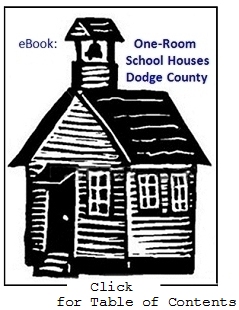 <![if !vml]>

<![endif]>