This file part of www.dodgejeffgen.com website
      One-Room School Houses of Dodge County.  An online eBook
Woodland Road School
District # 5
Hubbard Township
| | | | |
| --- | --- | --- | --- |
| 1867 | Burton Z. Winslow | 1897 | Ed. M. Carey |
| 1868 | Andora Emilage | 1898 | Ed. M. Carey |
| 1869 | Malvina Hart | 1899 | A.E. Jaeger |
| 1870 | Mary E. Spear | 1900 | E.G. Schulke |
| 1871 | L.H. Clark | 1901 | Amos Roll |
| 1872 | Mary Stetson & L. Schujohn | 1902 | Amos Roll |
| 1873 | Lucy Martin | 1903 | Amos Roll |
| 1874 | Augusta Drache | 1904 | Theodore Schoenwetter |
| 1875 | Thera Graham | 1905 | Stella Voss |
| 1876 | Bridget O'Brian | 1906 | Stella Voss |
| 1877 | Bridget O'Brian | 1907 | Louise Koehler |
| 1878 | Bridget O'Brian | 1908 | Lydia Arndt |
| 1879 | Kate Peterman | 1909 | Lydia Arndt |
| 1880 | Frank Whitten | 1910 | Adella C. Spahr |
| 1881 | Richard L. Roll, Sr. | 1911 | Elizabeth Neis |
| 1882 | W.C. Van Herwynan | 1912 | Mary Callahan |
| 1883 | George Peterman, Carrie Wales | 1913 | Arthur Schwan |
| 1884 | S.H. Hays | 1914 | Hazel Sinclair |
| 1885 | Frank Whitten | 1915 | Hazel Sinclair |
| 1886 | John Albert | 1916 | Francis Condon |
| 1887 | James Gadsell | 1917 | Francis Condon, Margaret Morris |
| 1888 | Emil A. Schneider | 1918 | Hulda Roemer |
| 1889 | Martin Lueck | 1919 | Francis Condon |
| 1890 | Martin Lueck | 1920 | Francis Condon |
| 1891 | F.G. Louth | 1921 | Irvin E. Friedrich |
| 1892 | J.W. Demp | 1922 | Irvin E. Friedrich |
| 1893 | Fred Gebhardt | 1923 | Esther Schroth |
| 1894 | Fred Gebhardt | 1924 | Violet Genzmer |
| 1895 | Andrew Washburn | 1925 | Violet Genzmer |
| 1896 | Fred Gebhardt | 1926 | Violet Genzmer |
| | |
| --- | --- |
| 1927 | Ruth A. Dresner |
| 1928 | Ruth A. Dresner |
| 1929 | Ruth A. Dresner |
| 1930 | Ethelyn D. Hoyt |
| 1931 | Miss Vivian Kreckow |
| 1932 | Miss Vivian Kreckow |
| 1933 | Flora Steinbach |
| 1934 | Flora Steinbach |
| 1935 | Lyola Sette |
| 1936 | Arline Roeseler |
| 1937 | Arline Roeseler |
| 1938 | Arline Roeseler |
| 1939 | Arline Roeseler |
| 1940 | Arline Roeseler |
| 1941 | Arline Roeseler |
| 1942 | Arline Roeseler |
| 1943 | Arline Roeseler |
| 1944 | Arline Roeseler |
| 1945 | Arline Roeseler |
| 1946 | Arline Roeseler |
| 1947 | Arline Roeseler |
| 1948 | Arline Roeseler |
| 1949 | Arline Roeseler |
| 1950 | Arline Roeseler |
| 1951 | Arline Roeseler |
| 1952 | Arline Roeseler |
| 1953 | Arline Roeseler |
| 1954 | Arline Roeseler |
| 1955 | Elaine Rohde, Ruth Ulrich |
| 1956 | Joyce Hendricks |
| 1957 | Joyce Hendricks |
| 1958 | Joyce Hendricks |
| 1959 | Joyce Hendricks |
| 1960 |   CLOSED |
<![if !vml]>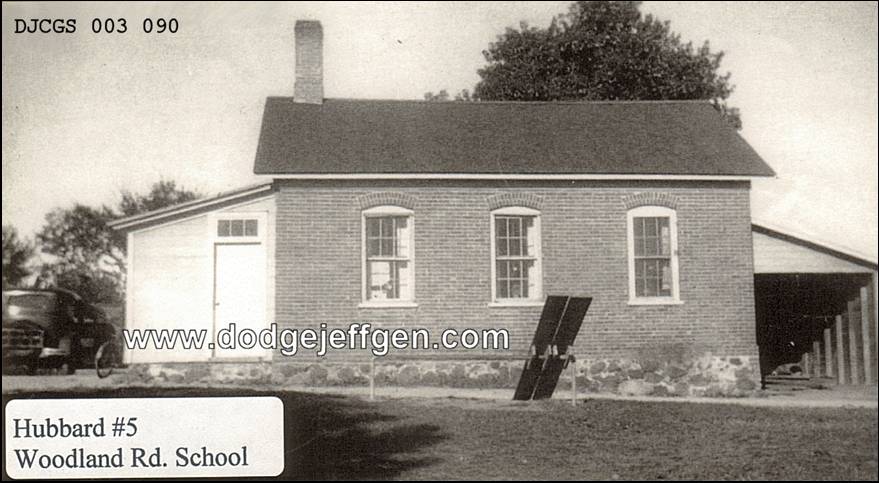 <![endif]>
<![if !vml]>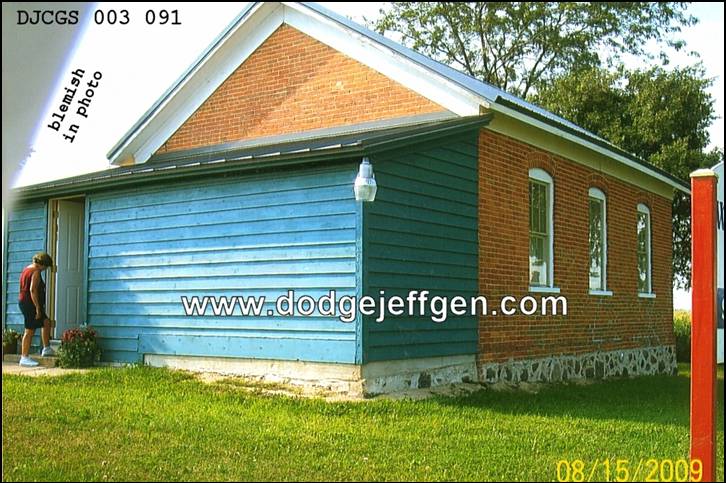 <![endif]>
Click on thumbnail to enlarge
<![if !vml]>
<![endif]>   <![if !vml]>

<![endif]>   <![if !vml]>

<![endif]>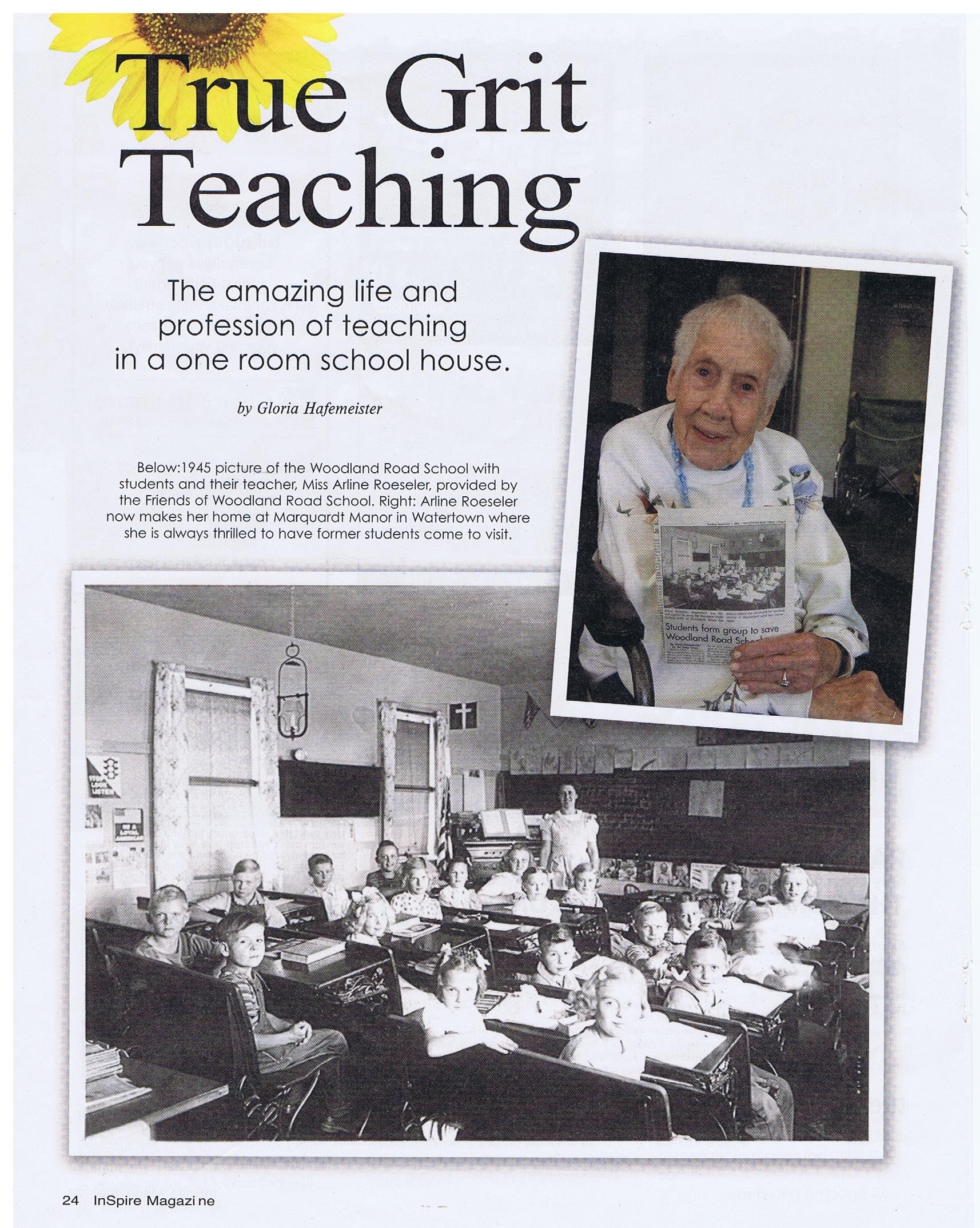 <![if !vml]>

<![endif]>     <![if !vml]>

<![endif]>      <![if !vml]>

<![endif]>
<![if !vml]>

<![endif]>
<![if !vml]>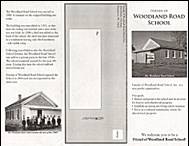 <![endif]>
The Woodland Road School was located at Highway 109 and Cedar Road.  The earliest record books indicate that Burton Winslow was paid $13.00 per month for the winter session and Audora Emilage received $36.00 for the summer term. New bricks were added in 1868 at a cost of one-cent per brick and $8.00 for labor.
In 1883 the school building was sold for $14.55 and a new building was erected. Building costs for the new school included $65.00 for carpentry work (paid to William Neider), $1.45 for labor (Frank Zeitler),$149.10 for bricks, $85.00 for school seats and desks, $121.26 for lumber, and $23.25 for lime and sand.
After consolidation, the Woodland Road School remained open and was part of the Joint District Number 7. In 1956 the building was closed. Miss Arline Roeseler, who began teaching at the Woodland Road School in 1935, moved into the village to teach 1st and 2nd grade.
<![if !vml]>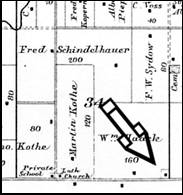 <![endif]>
<![if !vml]>

<![endif]>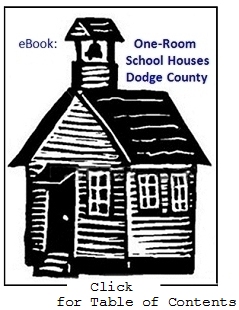 <![if !vml]>

<![endif]>