This file part of www.dodgejeffgen.com website
      One-Room School Houses of Dodge County.  An online eBook
Danville School
District # 5
Elba Township
Year

Ending

Salary

Mo/Yr

Teacher's Name

# of

Students

1901

1902

Bert E. Youmans

1903

Winifred Webster

1904

"

1905

1906

Edna E. Lashier

1907

Clara Erb

1908

Nellie Curphy & Fayette Kaiser

1909

Fayette Kaiser

1910

Agnes K. Jaeger

1911

"

1912

40.00/Mo

Bertha A. Woelffer

66

1913

50.00/Mo

Maude E. Crombie

68

1914

"

54

1915

70.00/Mo

Agnes K. Jaeger

52

1916

Miss Elsa Tetzlaff

Miss Laura Mulick

49

1917

Miss Elsa Tetzlaff

Miss Laura Mulick

43

1918

Miss Elsa Tetzlaff

Miss Laura Mulick

34

1919

Charlotte Sydow

Agnes Roche

50

1920

Agnes Roche, Charlotte Sydow &

Norma Jaeger

38

1921

$110/$990

Agnes Roache (Upper Grades)

Nellie Foley (Lower Grades)

1922

$100/$900

Viola Daley

Marian Bolger

36

1923

Frances Specht

1924

855.00/Yr

Frances Specht &

Marion Bolger

1925

" (both)

1926

990.00/Yr

Hilda M. Etscheid

1927

Marion Bolger

1928

990.00/Yr

Blanche Ward

1929

Florence Powers

1930

945.00/Yr

Margaret Montaque (?)

21

1931

990.00

"

23

1932

"

"

24

1933

900.00

"

29

1934

810.00`

"

21

1935

810.00

"

22

1936

720.00

Genevieve Duffy

16

1937

765.00

"

16

1938

"

1939

"

1940

"

1941

"

1942

"

1943

1080.00

"

1944

1350.00

"

1945

1620.00

Mrs. Genevieve Rosenthal

1946

Orphie Sullivan

1947

2025.00

Mrs. Margo Platz

1948

"

1949

2682.00/Yr

Margo Platz

30

1950

"

"

33

1951

2610.00

"

35

1952

"

Irma Wellnitz

33

1953

3015.00

Inez Rhodes

37

1954

3600.00

"

36

1955     

"

1956

Closed
c1909 class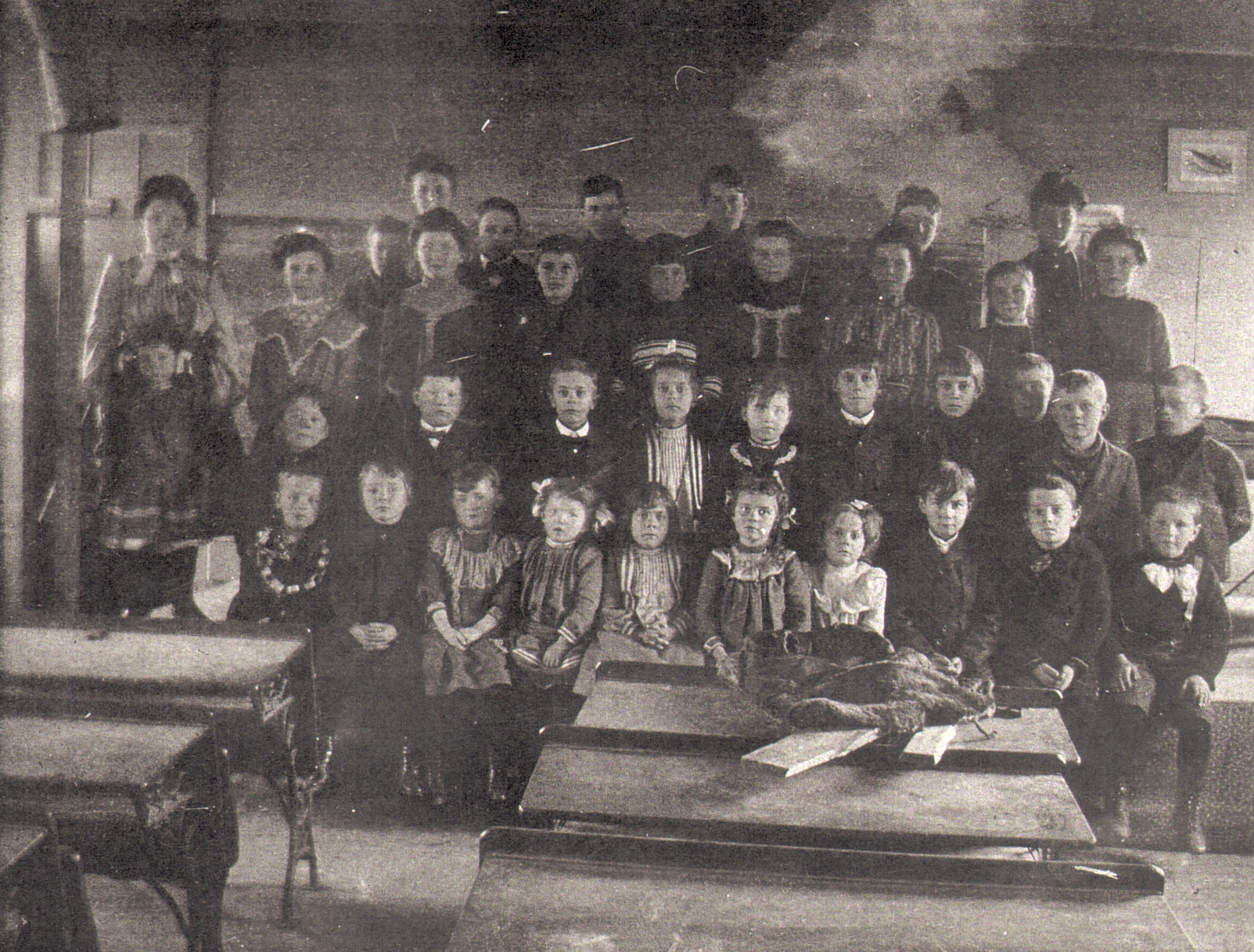 Image from Debbie Skalitzky
1941 class
<![if !vml]>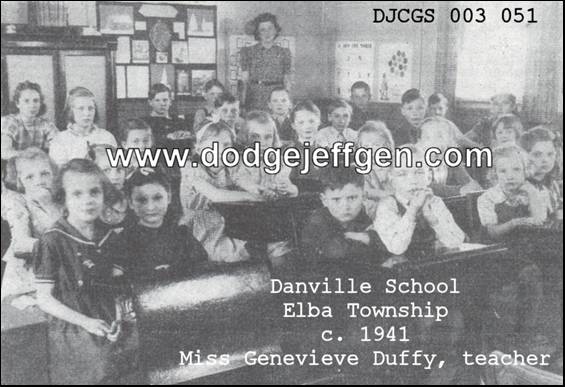 <![endif]>
Miss Duffy, Teacher   c.1941
Today [c.1941] Danville School has 25 pupils taught by the competent Miss Genevieve Duffy.
The students, pictured here, are:
First row, front to back:  Jean Nickerson, Suzanne Durow, Genevieve Mann.
Second row:  Otto Will, Roger Nickerson, Joann Borchert, Jeanette Mann, Berniece Christians, Rachel Hundley, Pearle Mann.
Third row:  Mavis Mann, Ramona Will, Elaine Mann, Patsy Linn, Mary Durow, Donald Nickerson, David Hundley.
Fourth row:  Bette Anhauser, Junior Linn, Howard Nickerson, David Durow, Lawrence Nickerson.
Last row:  Carolyn Anhauser, Roger Mann, Philip Christians.
Miss Duffy stands behind her charges.
Mrs. Margo Platz was teacher at Danville School/Elba from 1947 through 1951
A visit with Mrs. Margo Platz  [Danville School/Elba and Van Buren School/Calamus]
On July 14, 2012, a very pleasant visit with Mrs. Margo Platz took place at her apartment in Columbus, WI.  She makes her home at "At Home Again" living center. 
Margo told stories of her teaching days in the one room schools of Columbia and Dodge Counties.  She taught at Van Buren School in Calamus Township.  She said this was the first school where the girls and boys had indoor bathrooms and a furnace to heat the building.
She also taught at Danville School in Elba Township.  Here they had oil heat so she did not have to start a woodburning stove in the morning.  She said Danville was the second largest one room school in Dodge County.  At one time, it had been a two room school, but due to dwindling students, one room was converted into a garage, so she could keep her car inside during the winter months.  She said this was a blessing as it was so cold in the mornings during the winter.  She also said that South Beaver Dam School was the largest in Dodge County at that time.
When she taught in Columbia County, her school was located on a side road and when she couldn't get her car down the side road in the winter, she would park it near the highway at the schoolboard member's home.  She would then hike across the field to the school.
She told how one student at Danville gave her and her class a very hard time.  She told superintendent either he goes or I go.  She won that battle and the student was removed from school. 
A very pleasant lady to visit with.  She said she has pictures at her son's home and when we get together again, we can go through the pictures and perhaps add some of them to our collection.
Thank you, Mrs. Platz.
OLD DANVILLE SCHOOL, OPENED IN 1853,
HAS BROUGHT LEARNING TO MANY ALUMNI
c.1941 article
Genevieve Duffy teaches 25 youngsters who come from Danville, Astico and nearby farms
In an ancient valise-like file that has been handed down from one Danville District School Clerk to the other is a tattered yellow bill of sale.  This ragged old piece of paper tells the story of the start of the rambling, white, two-room school that stands sentinel over the hamlet of Danville on the banks of the Crawfish River.
It was on January 25, 1853, 88 years ago, that landowner C. H. Stewart signed this Dodge County property over to Elba School District Number 5 for the paltry sum of $5.  The Directors who represented the communities of Danville and Astico, and a large group of rugged pioneer farmers, realized that theirs would be one of the largest rural schools in the new country.  They built a large, two-room, school which, until well after the World War, was none too big.
Sam Webster, Oldest Alumni
Ralph Webster, whose father, S. R. "Sam" Webster, is thought to be the oldest living "alumnus" of Danville School, has been Director of the district for the past 25 years.  Ralph says he well recalls the day when as high as 50 to 60 students attended.  In those days both rooms were used and two teachers had all they could do to keep the "young 'uns" in hand.  Edwin Jaeger has been the school's clerk since 1920 and Christian Steinbach has been its treasurer since 1927.  Every treasurer since that first day in 1853 has used the same book in which to keep the schools financial status straight and Mr. Steinbach is no exception.
Enrollment at Danville fluctuates as families come and go.  Miss Duffy, who is neighbor and friend to everyone in the district, has a tough assignment this year since every one of the grades is represented among her youngsters.
Assessed valuation of property in Danville District No. 5 is perhaps as high, or higher, than any district in the Columbus area.  The Columbus Milk Producers Cooperative, the Astico Canning Company, Jaeger's Mill, and the homes of both Danville and Astico, plus the valuation of many fine farms, place its total worth at an unusually high figure.
<![if !vml]>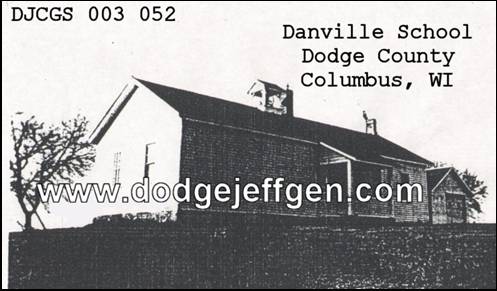 <![endif]>
1945 class
<![if !vml]>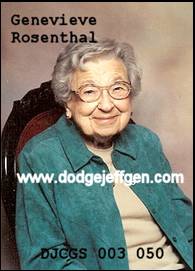 <![endif]>
Genevieve E. Rosenthal
Born: February 11, 1915
Died: January 24, 2009
1945 teacher at Danville School
Services: Mass of Christian Burial will be celebrated at twelve o'clock (noon) on Friday, January 30, 2009 at St. Katharine Drexel Parish-127 W. Maple Ave., Beaver Dam
Visitation: Thursday, January 29th from 6 to 8 p.m. at the Koepsell Funeral Home in Beaver Dam, and on Friday, January 30th from 11 a.m. until twelve o'clock p.m. at the church.
Genevieve Elizabeth Rosenthal, 93, resident of Hillside Manor in Beaver Dam, passed away on Saturday, January 24, 2009 at Hillside Manor.
A Mass of Christian Burial will be celebrated at twelve o'clock (noon) on Friday, January 30, 2009 at St. Katharine Drexel Parish-127 W. Maple Ave., Beaver Dam with Fr. John Schreiter officiating.  A visitation will also be held on Thursday, January 29th from 6 to 8 p.m. at the Koepsell Funeral Home in Beaver Dam, and on Friday, January 30th from 11 a.m. until twelve o'clock p.m. at the church. Interment will take place at St. Patrick's Catholic Cemetery in Beaver Dam.
Genevieve was born the daughter of John and Mary (Prosser) Duffy on February 11, 1915 in Columbus, WI.  She was married to Arthur R. Rosenthal on August 22, 1944 at St. Jerome's Catholic Church in Columbus.  Genevieve was a 1932 graduate of Columbus High School as well as a graduate of Columbia County Teachers College and Marian College in Fond du Lac.  Afterwards, she was an elementary school teacher in a one room school house for 11 years in Danville, WI.  She also taught in the Beaver Dam Unified District at South Beaver Dam for 25 years.  Genevieve was a member of St. Katharine Drexel Parish in Beaver Dam and a member of Local and State Retired Educator Association.  She was a loving mother, grandmother and great grandmother.  Genevieve was a dedicated lifelong educator.
Genevieve is survived by her two daughters: Kay (James) Braun of Beaver Dam and Janel (John) Hebl of Verona, WI; her grandchildren: Christine (David) Schultz; Annette (Steve) Neinas; Laura (James) King; Johannah (David Krull) Hebl; Jessica (Andy) Yeomans; Michael Hebl; nine great grandchildren; her sister-in-law Donna Duffy of Deerfield Beach, FL; further survived by nieces, nephews, other relatives and friends.
She was preceded in death by her parents, her husband Arthur in 1991, three brothers: Thomas, Joseph and Arthur, one sister Helen, two sisters-in-law: Margaret Duffy and Jane Duffy, and her brother-in-law Vincent Tobin.
The family would like to thank the staff at Hillside Manor and Dr. Cody for all their wonderful care.
Memorials: St. Katharine Drexel Parish in Beaver Dam.
<![if !vml]>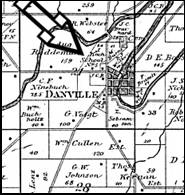 <![endif]>
<![if !vml]>

<![endif]>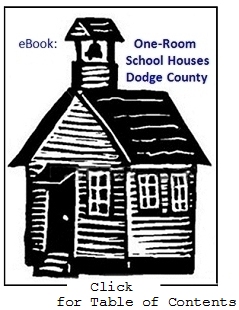 <![if !vml]>

<![endif]>