Chester_Atwater.htmThis file part of www.dodgejeffgen.com website
      One-Room School Houses of Dodge County.  An online eBook
Chester School # 7
Chester Township
Year

Ending

Teacher

1901

1902

Abbie J. Connors

1903

1904

"

1905

1906

"

1907

"

1908

"

1909

"

1910

"

1911

"

1912

"

1913

Marguerite Warren

1914

Abbie J. Connors

1915

"

1916

Anna Schmidt

1917

Lovila Deutschbein

1918

Hilda Straks

1919

"

1920

Cora Olson

1921

Mary Drummy

1922

Mabel Salick

1923

"

1924

"

1925

"

1926

"

1927

"

1928

"

1929

"

1930

Mrs. L. E. Chandler

1931

Minnie Reifsnider

1932

"

1933

"

1934

"

1935

"

1936

Florence Ann Marquardt

1937

Leora Breitag

1938

Mrs. Vera Garfoot

1939

"

1940

Mrs. Vera Garfoot

1941

"

1942

"

1943

"

1944

"

1945

"

1946

Mrs. Evelyn Leibold

1947

"

1948

"

1949

"

1950

"

1951

Clarence Welke

1952

Mrs. Mildred Kastein

1953

"

1954

Mrs. Ann Weckerle

1955

"

1956

"

1957

"`

1958

Schools Consolidated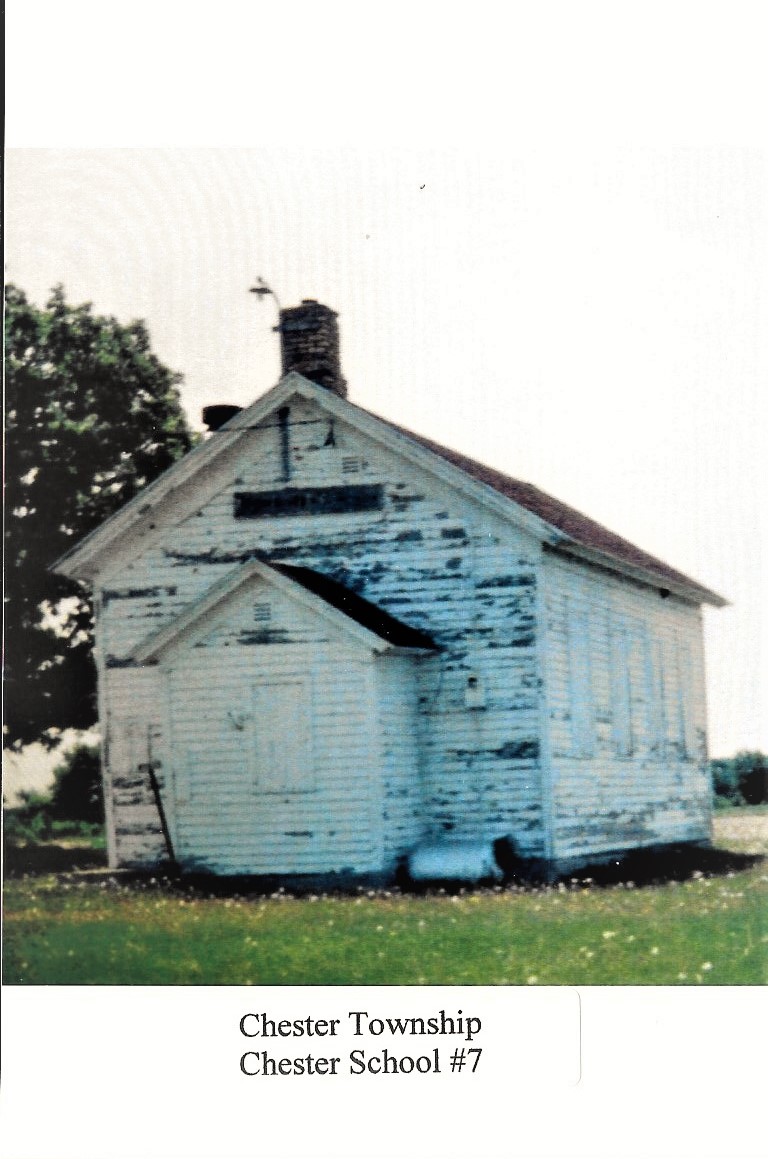 <![if !vml]>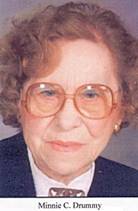 <![endif]>
Minnie C. Drummy [1921 teacher]
FOND DU LAC - Minnie C. Drummy, 100, died on Sunday, Oct. 16, 2011 at Agnesian Hospice Home of Hope in Fond du Lac, Wis.
She was born at Merry Dale Farm, Cambria, Wis., Columbia County, on June 24, 1911, to Fred and Mary M. (Nietman) Reifsnider.
Minnie was a rural schoolteacher for five years before her marriage to James Drummy, who had returned from Marquette University to manage the Drummy farm in Waupun.  They were married on June 10, 1936 in St. Mary Catholic Church, Pardeeville.  They purchased the Drummy homestead east of Waupun, which had been bought as adjoining land by both of their greatgrandfathers in 1849. They were parents of five sons and six daughters.
She was a member of St. Joseph Catholic Church for 70 plus years, its Altar Society, the Waupun Historical Society, and was instrumental in obtaining and establishing the Waupun Heritage Museum.  She belonged to the Dodge County Retired Teachers' Association, and was an active member in the Waupun Chapter Daughters of the American Revolution for 63 years.  She served as a regent and was a delegate several times to the National DAR Congress held annually in the DAR Constitution Hall, Washington, D.C.  She was also active at one time in organizations which no longer exist: The Waupun Women's Club, The Philharmonic Club, Descendants of Civil War Veterans, the Dodge County Federation of Republican Women, the original Wisconsin Rural Writers Organization, and she established the first 4-H Club in 1932 in Chester.
She was an avid genealogist and history buff and was very interested in American history and learned that her ancestors came to this country as early as the 1620s.  She was proud of her seven nationalities and that four of her ancestors (Obadiah Smith, Wm. Reifsnider, Aaron Hand and John Philips) served in the American Revolutionary War.  An uncle signed the Declaration of Independence and two of her grandsons are the eighth generation of the family to wear the uniform of this country: Lt. Col. Daniel Patrick Clark U.S.A.F. and 1st Lt. Jay John Heide, a graduate of Marquette University R.O.T.C., U.S.A.F.  Just recently, her great-grandson, Plebe Daniel Patrick Clark II, started at the U.S. Merchant Marine Academy in Kings Point, N.Y., making the 9th military generation in the family.  She persisted in obtaining a memorial plaque honoring Waupun's first cemetery where 140 pioneers and veterans are buried in what is now called Wilcox Park.
She traveled extensively throughout the United States including Barrow, Alaska to Mexico and trips to the British Isles, Europe and Athens, Greece.  Many of her travels are depicted in her oil paintings.  Her oil paintings are in 21 states including the DAR National Museum and Smithsonian National Museum in Washington, D.C. and in Europe.
She was preceded in death by her husband James in 1977; two infant sons, Kent and Norman; a daughter, Maureen in 1997; her parents; and a sister, Georgia Smith.
She is survived by three sons: James (Janis) Drummy, Milwaukee, Very Reverend John Drummy, Amery, and Neil (Nancy) Drummy, Waupun; five daughters: Gail (Robert) Clark, Northville, Mich., Jacquelyn (Lowell Vingum) Drummy, Madison, Mary (T. Lee) Howard, Middleton, Jeannine (Jeffrey) Heide, Kenosha, and Lauri (Patrick Tanner) Piper, Omro; 12 grandchildren: Lt. Col. Daniel (Cynthia) Clark, Robert (Marie) Clark, Chicago, Jennifer Watts, Brian (Marci) Drummy, Craig (Diane) Drummy, Sarah Drummy, David Drummy, Alysia Howard, Ryan Howard, 2nd Lt. Jay Heide, Jack Heide, Mitchell (Colleen) Posthuma, Kerry Lynn (Ray) Mess, Regina (Michael) Karwoski; 12 great-grandchildren; and many nieces, nephews and friends.
She led a long, enjoyable life with her large family and she will be dearly missed.
Funeral services for Minnie C. Drummy will be held on Monday at noon at St. Joseph Catholic Church in Waupun, with the Very Rev. John Drummy, the Rev. John Schmitz, the Rev. Aaron Devett, and the Very Rev. Michael Wild officiating. Burial will follow at Calvary Cemetery in Waupun.  Friends and relatives may call on the family on Monday at the church from 10:30 a.m. until the time of service.
Werner-Harmsen Funeral Home of Waupun and staff are serving the family.
<![if !vml]>

<![endif]>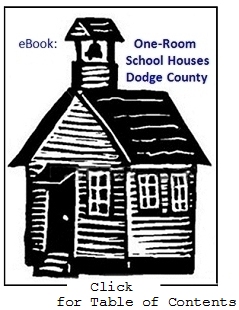 <![if !vml]>

<![endif]>