This file part of www.dodgejeffgen.com website
      One-Room School Houses of Dodge County.  An online eBook
Leipsic – Beaver Dam & Lowell #7
Beaver Dam Township
Year

Teacher

Students

1895

Owen Hartt,

Miss Ida Zepp

$35.00/Mo.-

$20.00/Mo.

1896

Ida Zepp, Mr. C. Walter

"

1897

Charles B. Hinchliff, Ida Zepp

"

1898

Ida Zepp, Elmer Staab

$30 & $20

1899

Minnie Patzlsberger

$22.00/Mo.

1900

Minnie Patzlsberger, Wm. N. Powers, Alice M. Pratt

$30 & $20

1901

Bridget Scanlon, John A. Roberts, Ida Zepp

"

1902

Ida Zepp – was paid $27.00 for 5 mo. & $20 for 3 months

1903

"

$20.00

1904

May A. Miller

1905

Mae A. Burr

1906

"

1907

"

1908

Mabel Turck

1909

"

1910

"

1911

Ella M. Krueger

1912

Adolph Schumann

40

32.00/Mo

1913

Frances Brossard

31

1914

Effie Turck

32

360.00/Yr.

1915

"

27

432.00/Yr.

1916

Blanche Markham

40

50.00/Mo

1917

Ruth Tyson

1918

Ethel Pritchard

26

1919

Ethel Pritchard

Miss Hattie Shealer

21

1920

Miss E. Hattie Shealer

1921

Alice Callahan

23

1922

"

16

1923

Viola M. Bilke

1924

"

1925

Estella Powers

27

1926

"

23

1927

"

1928

Edith M. Roller

1929

"

33

1930

Olive Ellen Griffin

32

1931

Blanche Bonner

29

1932

Cora Wheeler

31

1933

Hugh T. Roberts

34

1934

"

28

1935

Veronica Albrecht

21

1936

"

20

1937

"

20

1938

Leora Breitag

19

1939

"

35

1940

"

19

1941

Alice Hammer

28

1942

"

22

1943

"

26

1944

Mrs. Robert Rosenmeier

28

1945

Mrs. Frances Spoon

22

1946

"

13.7

1947

"

26

1948

"

28

1949

Mrs. Frances Spoon

Lucile Shindle

1950

Frances Spoon

1951

"

16.9

1952

Riley J. Leach

17

1953

"

19.5

1954

"

24

1955

Mrs. Joyce Krueger

23.8

1956

Mary Klatt

23.5

1957

"

20.2

1958

"

27

1959

"

22

1960

Arlene Koehn

19

1961

"

17

1962

______

1963

Blanche Guse

21

1964

Closed
Note:  1800's – men were paid $10.00 more than the women teachers.
1962
Beaver Dam Daily Citizen of August, 1962 states that the District was operating the Leipsic School with Blanche Guse as teacher, 21 students; and the Park Lawn School with Selma Affeldt as teacher, 23 students.    Also I do think that Blanche Guse was the teacher at Leipsic during 1961-62, although there is no way of double checking that information.  But I never knew her to be without a school, and she finished Rolling Prairie in 1961.  Also I never knew Arlene Koehn, who was a high school classmate, to be in a school more than one year.  – Gerald Goodrich contribution.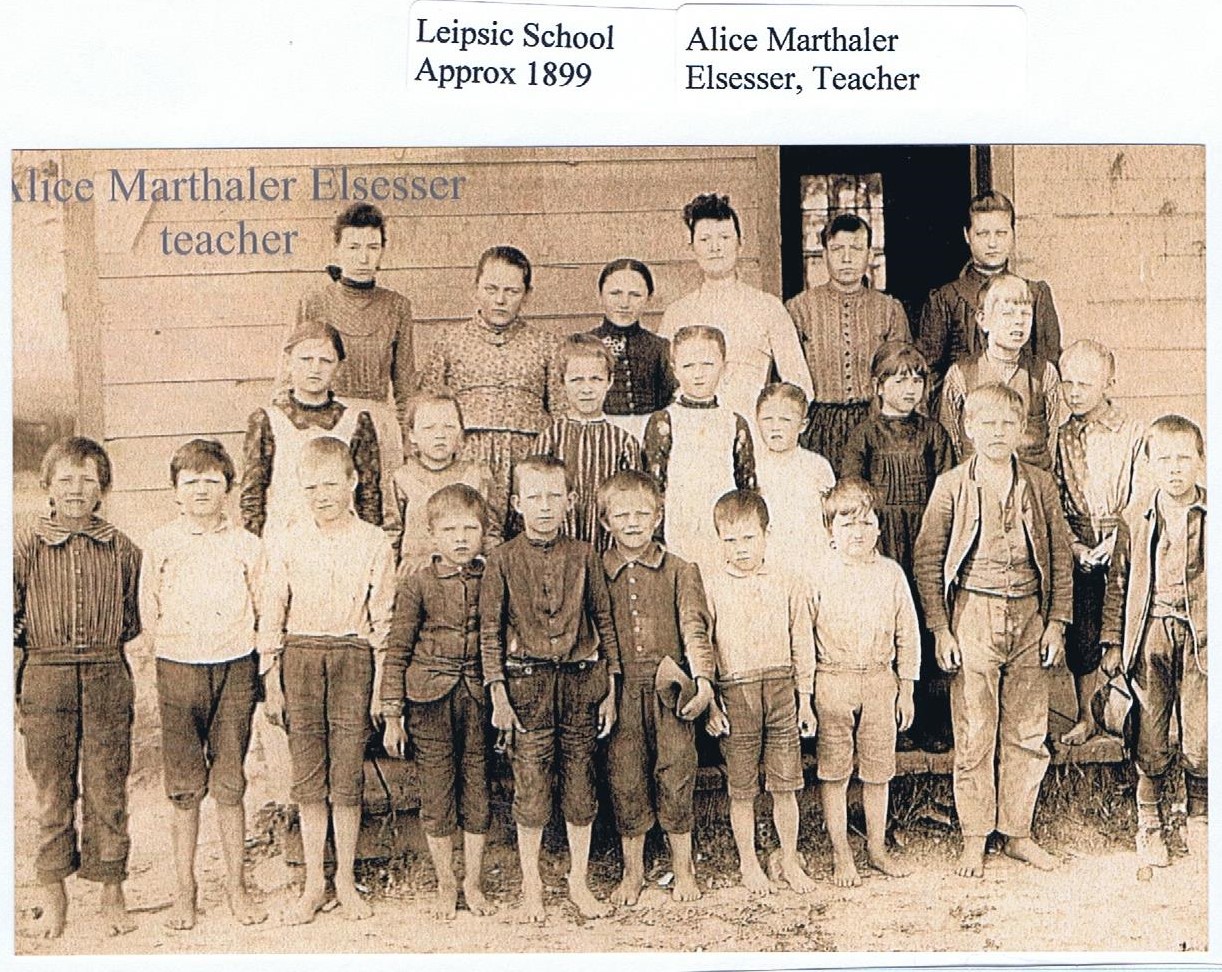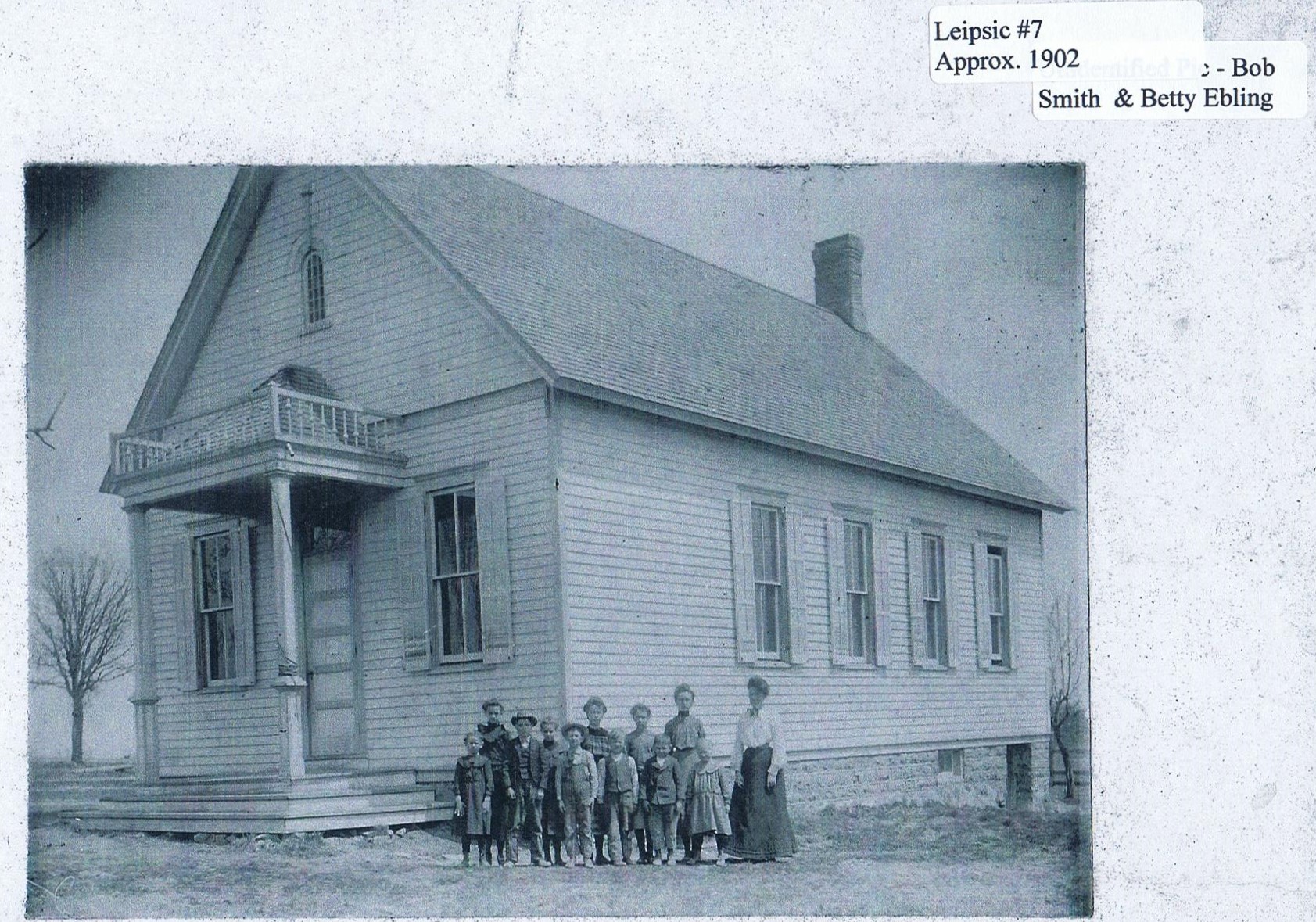 <![if !vml]>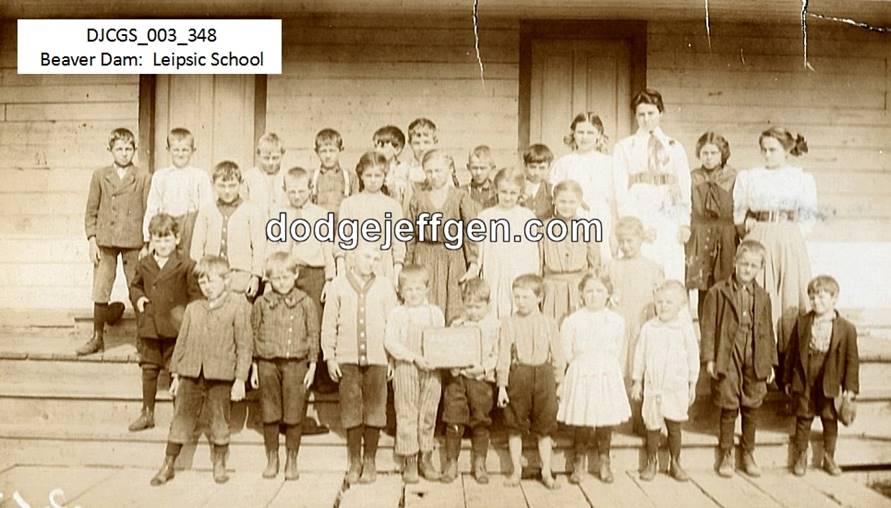 <![endif]>
Leipsig School, Dist. No. 7, Teacher Ella M. Krueger, 1910-1911 School year.
History of Leipsig School (Formerly South Beaver Dam)
Leipsig school was organized April 24, 1847.  It was started with a special meeting of District Electors at the dwelling of John M. Grant at 6 PM.  Meetings held at night because of work.  Jan. 3, 1848, money was finally received for building.  Decided structure would have a balloon frame with 10' posts, one report said 8' posts, sided with rough oak without cornice.  Sheeting under siding was thin oak boards.  School Board approved $175.
Also approved were 4 panel doors 2" thick.  Six 12 pane windows, 2 on each side and 2 on N. W. Side.  Also specified "Desk Leaves" to be 1 Ό" thick.  Building interior was to receive 2 coats of plaster.  Roof shingled with oak 14' long and 4" to weather.   Wm. Bidwell was chosen moderator (Chairman of the 1st School Board) at the session.  Aaron Chisolm and Harvey Burr were elected trustees and Ellis Thompson, Clerk, Chisolm also elected "Collector". 
–    It is believed Grant's Saw Mill on Beaver Dam River cut oak timbers.
–    The building erected on August (Gussie) Smith farm on town road running off South Center 3 miles from Beaver Dam City limits.
–    However, a trip there will reveal only woods.
–    The old building was sold in 1867 and a new building 30X50 was built.  This building stood for 63 years before the third school was built.  The 3rd school was 30X40.
–    In 1850, thre were 27 male students and 28 female students.  They aged 4 years to 20 years.
–    In 1847, there were 24 students in attendance with 6 students from another district.
–    There were 17 homes from corners to 20 rods north of Grants Mill.  Grant operated a saw and grist mill while Phillip Staab had a grist mill closer to the settlement.
–    First teachers were Wm. F. Bailey - $14.00 a month for 3 months of winter teaching.
–    Eliza Holt - $3.12 ½ a week for 3 months of summer teaching.  School was only held for 6 months.
–    In 1850, expenditures were $75.00 for salaries and $6.00 for repairs.
<![if !vml]>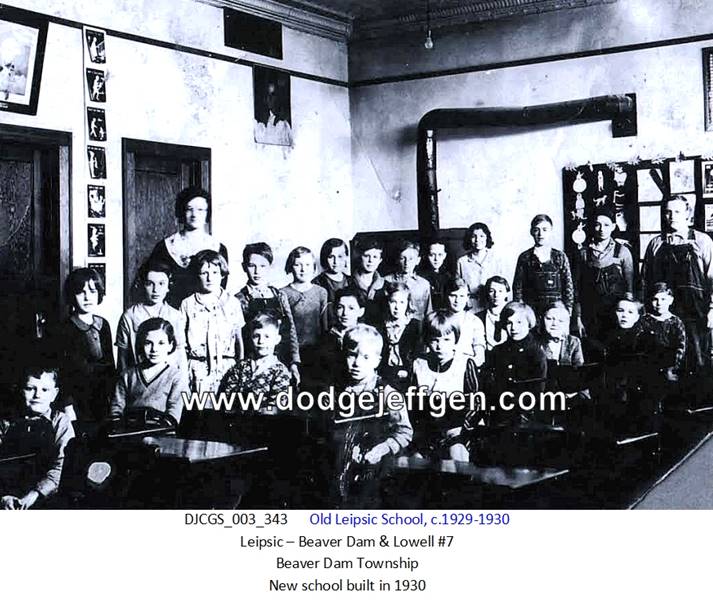 <![endif]>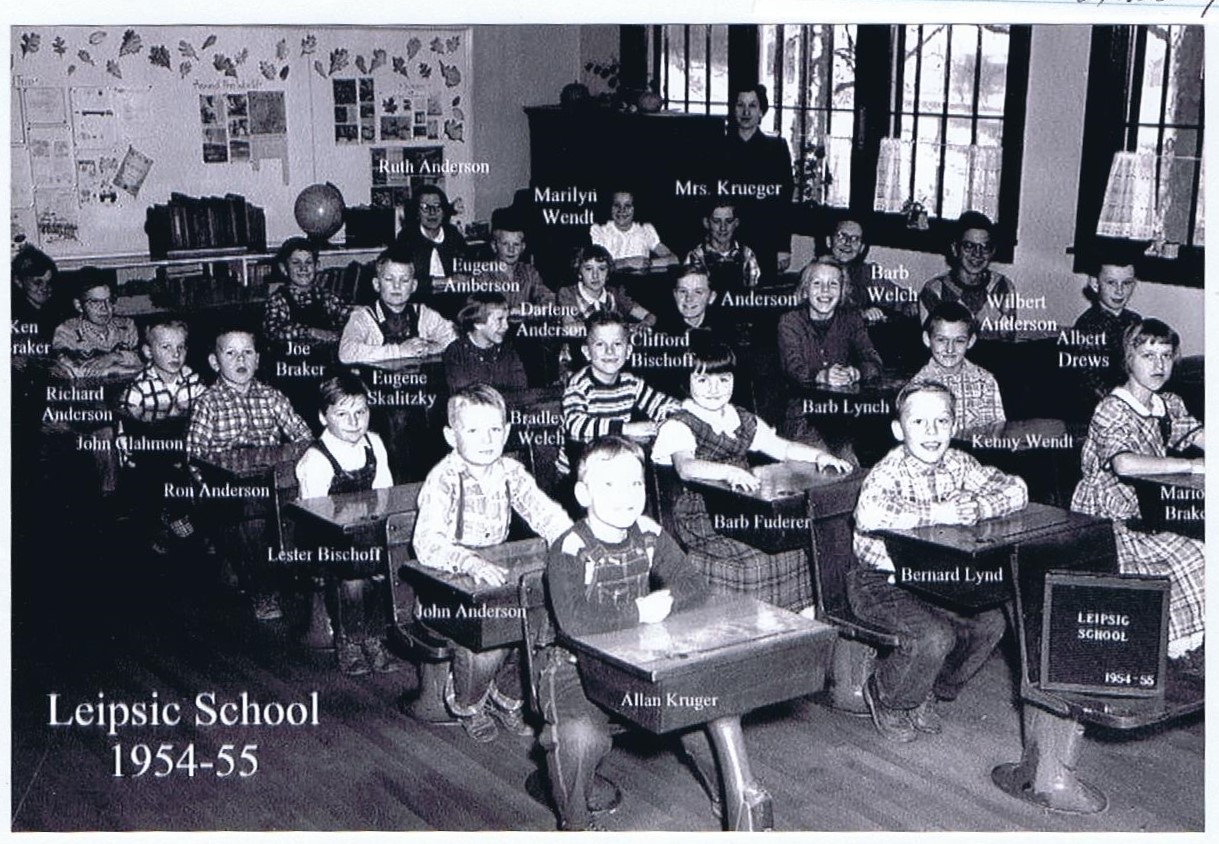 <![if !vml]>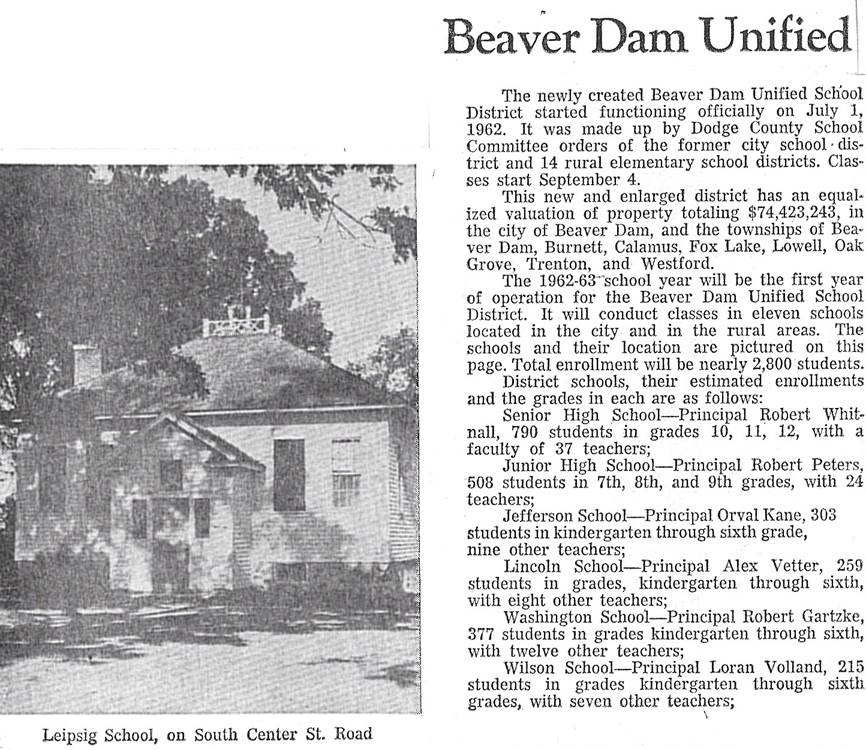 <![endif]>
<![if !vml]>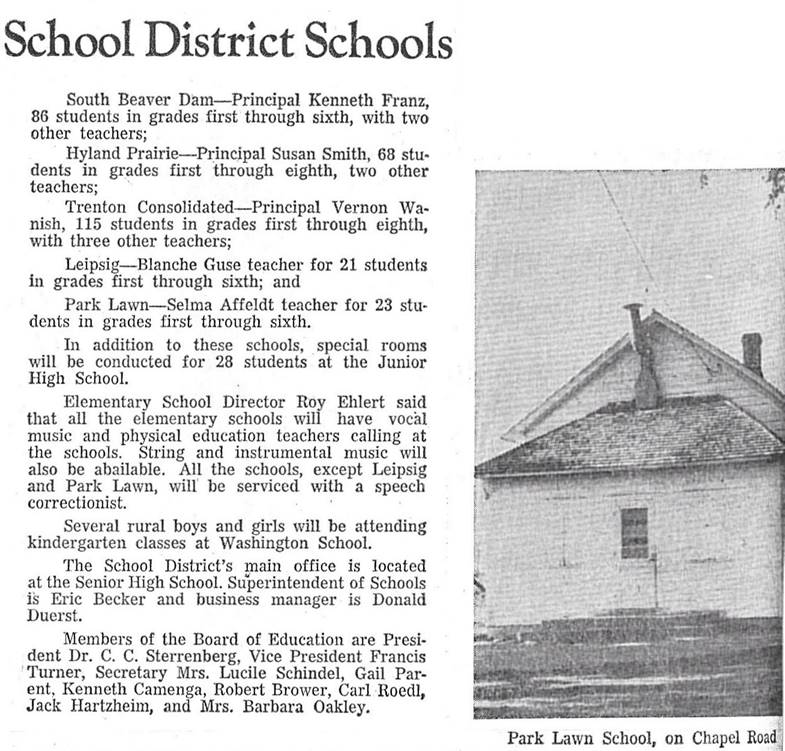 <![endif]>
<![if !vml]>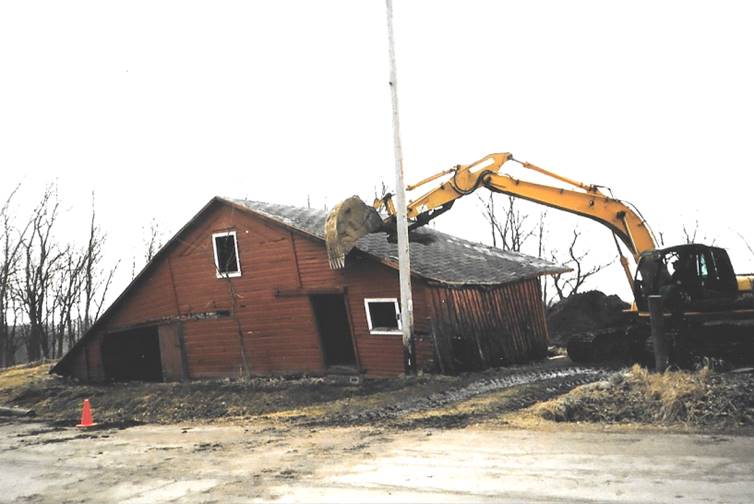 <![endif]>
The center portion of this shed was the first Leipsig school moved from the woods to the Smith farm and farm was later purchased by Herb Lehner.  It was torn down in May of 2015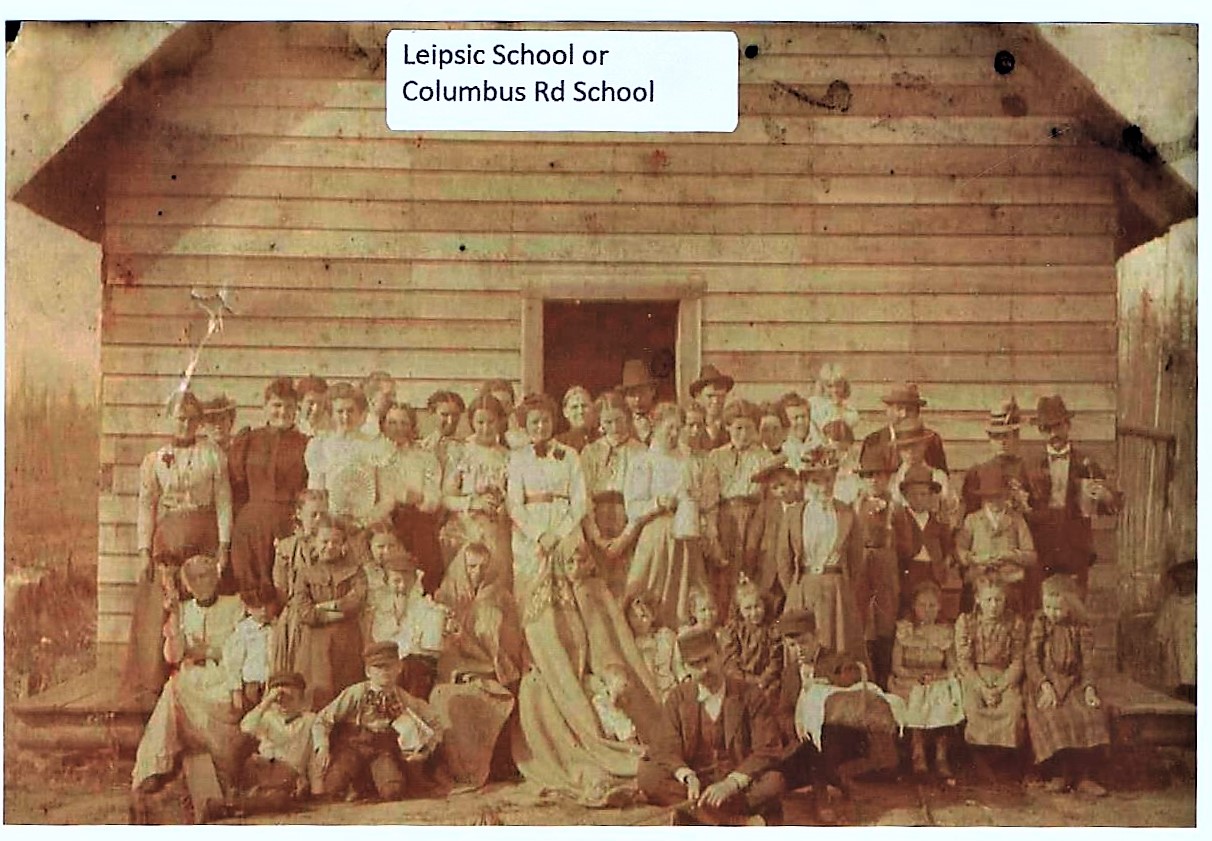 <![if !vml]>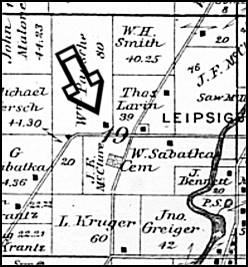 <![endif]>
1890 Plat Map
<![if !vml]>

<![endif]>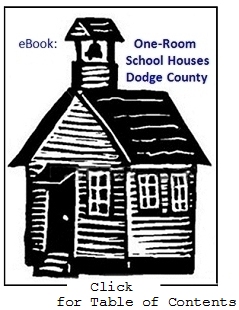 <![if !vml]>

<![endif]>